Honeycomb Cake with Honey Lemon Curd
It's all about that honey
For better or worse, I don't revisit recipes too often. What I do revisit is my love for certain pans and pots. If you love cooking you already know that feeling, and if you are falling in love with cooking you certainly will understand this feeling soon.
I have this honeycomb cake pan that my mom brought me as a gift and for some reason I have been stubbornly decided since receiving it that it has to be filled with some sort of honey confection. It is a honeycomb after all. It exists to be filled with delicious honey on the inside. Also, considering the design that the cake will have on the top after baking, it makes no sense to frost or glaze it and hide the beautiful details of the hexagonal cells and the bees fluttering by them. So you need a moist and creamy element to pair with the cake crumbs. Just dust some powdered sugar over the top.
When you bake with a filling inside a cake you know it will probably be absorbed by the batter during baking, so this is always tricky. And I can't fill this cake after baking as it's done with cupcakes because this cake is served upside down, so after filling it and turning it chances are some of the curd will drip out. The ideal way has always been baking it with the filling.
My first attempt was a honeycomb cake filled with honey cream cheese. It was really good and the tartness of the cream cheese was a nice touch, but definitely its in the edge of getting absorbed by the batter while baking. I have made it couples of times after that, but then I started craving a more creamy and steady filling for this cake. That's how I came up with the idea of the honey lemon curd since curds will hold its texture better under heat. What I did was to freeze it (technically it didn't freeze because a curd will never solidify completely) so when it hits the oven it will take longer to melt, therefore retaining for a longer time its original texture.
It was simply delicious! This curd kept its moistness and creaminess very well. It's a puff of sweet and sourness within each cell. I will even dare to say it is something to bee happy about!
Recipe notes:
1. You will need a little more that half of the curd recipe, but it is so nice to have some left for another time with waffles or even cheese and crackers. Or in other words, didn't want to cut in half the recipe because I have never ever made less than this. It will stay good for a very long time if kept in the freezer. Just remember to take it out a couple of minutes before using to let it thaw a bit.
2. I prefer to use arrowroot instead of cornstarch because it is a natural thickener. You may swap it for cornstarch if you prefer.
3. You may also use a 9" round cake pan. Just spread the curd through the half of the batter poured in the pan, leaving like an inch of clear border, and cover with the remaining batter.
4. If using this pan, I highly recommend that you don't grease it with butter but with baking spray instead. If you use butter you could affect the definition of the design on top. I used coconut spray.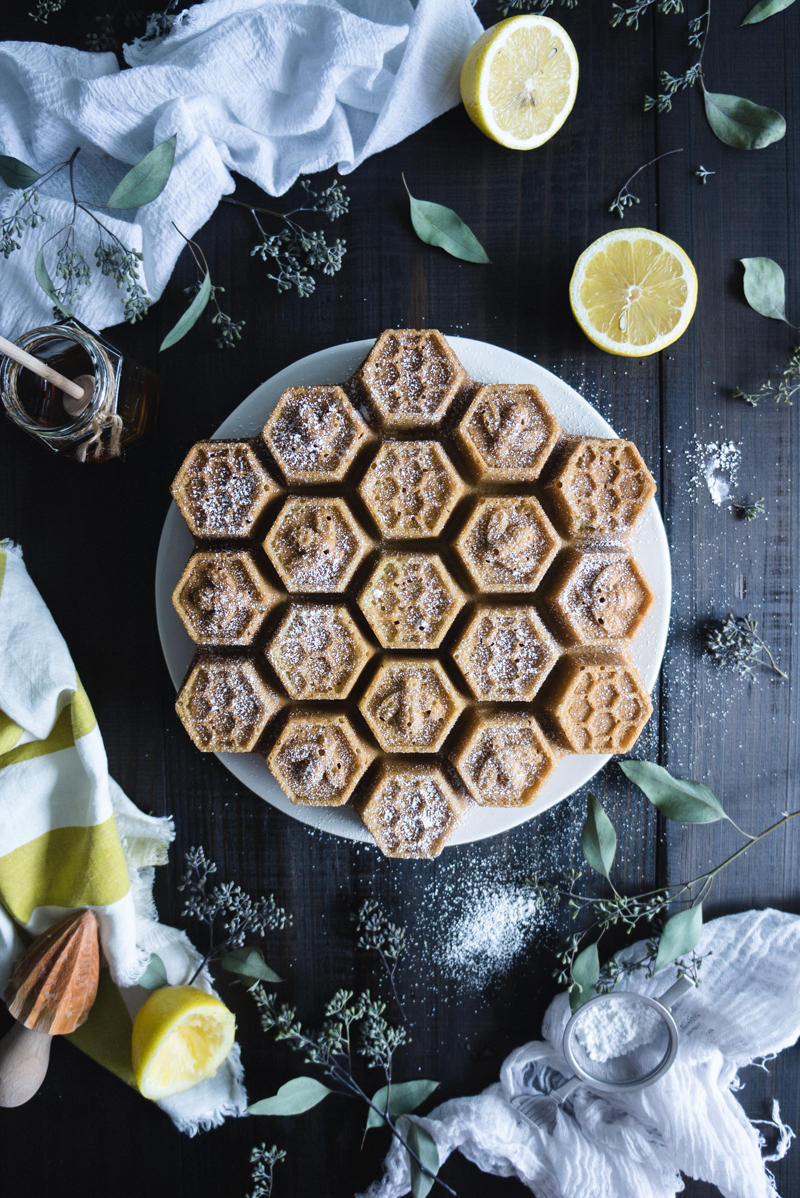 Honeycomb Cake with Honey Lemon Curd
Honey Lemon Curd
Heavy cream – 2 TBSP
Arrowroot – 1 TBSP
Eggs – 2
Egg yolks – 2
Honey - ⅓ cup
Freshly squeezed lemon juice – ½ cup
Unsalted butter, softened and in pieces – 8 TBSP, 1 stick

Cake

Unsalted butter, softened – 6 TBSP
Raw sugar – 1 ¼ cup
Unbleached flour – 2 cups
Baking soda – ¾ Tsp
Baking powder – ¾ Tsp
Coconut milk – 1 cup
Fine sea salt – ½ Tsp
Vanilla paste or extract – 1 TBSP
Eggs – 4
Lemon Curd:
Total an active time- 30 minutes
Special equipment - Whisker, double boiler or medium glass bowl and skillet, strainer
In a small bowl dissolve the arrowroot in the heavy cream.
In a medium glass bowl, place the whole eggs and yolks, honey, lemon juice and whisk until combined. Place the bowl over a saucepan or skillet with simmering water, like a bain-marie. Cook on moderate heat, whisking constantly. As soon as it begins to thicken pour the heavy cream with the dissolved arrowroot while whisking to prevent lumps. After this continue cooking with a wooden spoon until the mixture becomes thick. For me the total time was exactly 20 minutes. The mixture should coat the back of a wooden spoon and leave a clear pass if you run your finger through it. Pour the mixture through a strainer and add a couple of pieces of butter, mixing to incorporate. Repeat with the remaining butter. Let it cool before covering and placing it in the freezer. Remember to use plastic paper directly to the curd to prevent ice crystals.
Cake:
Total time - 45 minutesPrep time - 15 minutes
Special equipment - stand or electric hand mixer, honeycomb cake mold or 9" cake pan
Preheat oven to 350°.
Spray pan with coconut oil spray or baking spray.
In the bowl of a stand up mixer with the flat beater attached, beat the butter until fluffy and pale in low speed (2 in the Kitchen Aid), about 1 minute. Incorporate sugar and increase one notch the speed (4 in the Kitchen Aid). Beat for 5 minutes.
In the meantime, in a medium bowl combine with a whisker or a fork the flour with the baking soda and baking powder very well.
In another bowl combine the coconut milk, salt and vanilla.
Decrease the speed of the mixer by one and add one by one the eggs, letting each incorporate to the butter and sugar before adding the next one. When the eggs are completely integrated decrease by one the mixer speed. Add to the bowl ⅓ of the flour mixture, let it incorporate a bit to the butter, and then add half of the coconut milk. As soon as it just incorporates add another third of the flour, then repeat the process again with the coconut milk and the remaining flour. Do not over mix.
As soon as everything seems well incorporated and uniform stop mixing and transfer half of the batter to the cake pan. Fill each cell with 1 teaspoon of the lemon curd (remember to take it out of the freezer just a couple of minutes before using it). Using a spoon cover each of the cells with some batter, then pour the remaining one and spread it evenly through the pan. Bake for 25 to 30 minutes or until you insert a toothpick through the center of the cake and it comes out clean.
Remove from oven and wait a couple of minutes until taking the cake out of the pan. Sprinkle powdered sugar on top and serve with more honey lemon curd on the side.