Blackberry Blueberry Tart with Dark Chocolate Hazelnut Crust
What is love
What can you say about love?
Something that has not yet been said before?
Love is home.
Love is fear.
Love is calm.
Love is fierce.
Love is freedom.
Love is unspoken.
Love says everything.
Love has no words.
Love is where you start living.
Love is where you stop living.
Love is unknowing and yet you know. Even if your logic mind try to stop you from believing in that magic, the universe keeps whispering to your ears, to your eyes, to your skin, over and over, that it's there.
Love is a butterfly.
Love flies.
Love is the chase.
Love is the end.
Recipe notes:
1. This is an extremely easy blackberry tart. You can make this dark cocoa pâte sablée or you can use a simple graham cracker crust. With this crust you would probably not be able to remove the bottom of the pan completely. Some recipes where you can find the graham cracker crust recipe are: no-bake cheesecake, basil and lemon blueberry cheesecake or the chocolate crust from my chocolate with sugared cranberries tart.
2. This dough is not as strong as piecrust dough. Don't get desperate if it starts to tear when trying to handle it. Just treat it like play-duh and press it together to achieve the form you want.
3. I used dark unsweetened cocoa powder but you can use regular unsweetened cocoa powder as well. Or leave it out altogether.
4. I sincerely can't deal with pie weights. There are always some beads that jump out of the parchment paper and roll through my entire kitchen floor. I found this silicon pie weight that I love and is the only thing I use when blind baking crusts. Here you can find the kind of pie weight I used.
5. You may substitute the finely crushed hazelnuts with almond meal or flour.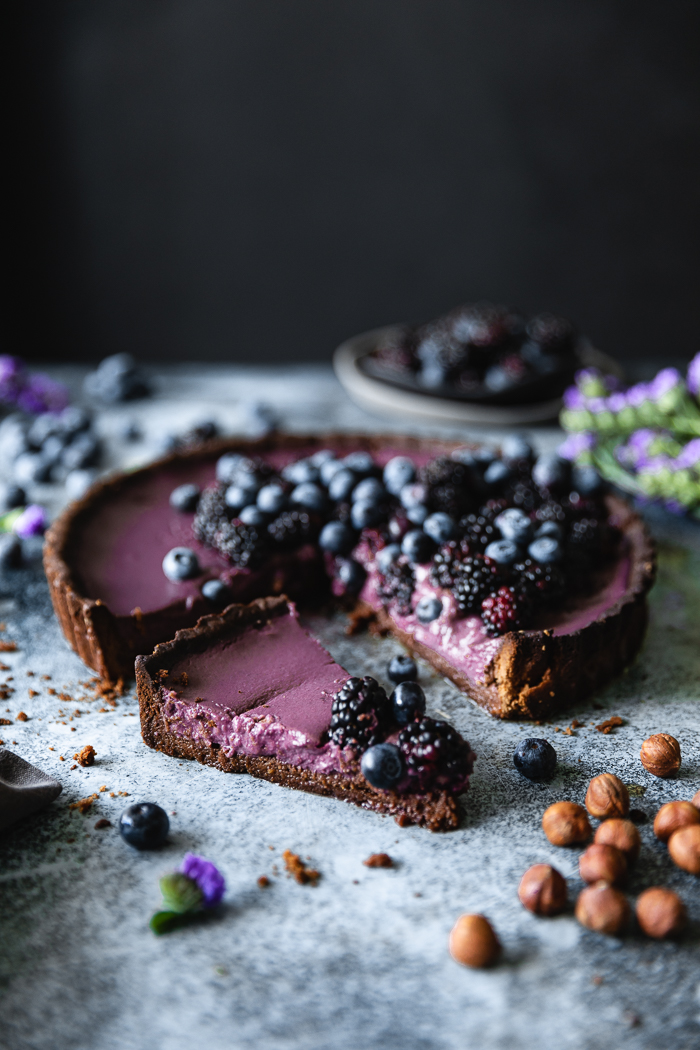 Blackberry Blueberry Tart with Almond Dark Chocolate Crust
Pâte Sablée
Butter, at room temperature – 8 TBSP (1 stick)
Powdered sugar – ½ cup
Large egg yolk – 1
Fine sea salt – ½ Tsp
Pure vanilla extract – 1 Tsp
Finely crushed hazelnuts (see notes) – ¼ cup
Dark or regular unsweetened cocoa powder – 3 TBSP
Unbleached all purpose flour- 1 1/4 cup
Coconut or any other milk of choice – 2 TBSP, as needed
Blackberry Blueberry Filling
A mix of blackberries and blueberries – 3 ½ cups
Raw sugar – 2 TBSP + ¼ cup
Freshly squeezed lemon juice – 2 TBSP
Coconut milk – 1⅓ cup
Pure vanilla extract – ½ Tsp
Unbleached flour – 4 TBSP
For a 8" to 9" tart
Total time: 2 1/2 hours plus 6 to 8 hours to chill the dough Active time: About 1 1/2 hours, divided
Equipment: 8" or 9" Flute tart pan or regular tart pan, stand mixer or hand electric mixer, sieve
To make the dough: In a bowl of a stand mixer beat the butter and the sugar in low speed (#2 in the Kitchen Aid) until fluffy and creamy, about 3 minutes. Drop in the egg yolk and mix until it is well mix into the butter sugar mixture. Stop the mixer and scrap down the sides of the bowl. Start the mixer again in the same speed and add the salt, vanilla and hazelnuts (or almond flour if using) and mix just until incorporated. Finally, add the flour and beat just until it seems well incorporated. Be careful to not over mix the dough. The dough should hold together when you press it with your hand. If it seems too dry and crumbly and it's not holding together add some milk, one tablespoon at a time, and lightly beat again.
Using your hands press the dough as a disk, then flatten it as much as you can. Chill in the fridge for at least an hour or up to three days.
Take the dough out of the fridge and let it soften for 10 to 15 minutes so it's pliable when stretching it.
Using a rolling pin stretch the dough between two pieces of parchment paper, that way you will prevent it from sticking to the surface or and you would not have incorporate more flour to the dough. Roll it out until you have a disk of approximately 10". Peel away the top layer of parchment paper and invert the dough into the tart pan. Peel away the other layer of parchment paper and accommodate the dough in the center of the pan. If some of the dough got broken just press it with your fingers to put it back together (see notes). Gently press the dough toward the walls and bottom of the pan. Using a pairing knife trim any excess of dough trough the top. Save scraps in case you need them to parch any crack on the dough later. Carefully prick the bottom of the dough several times, making sure you don't pierce it all the way through.
Place dough in the freezer for about 20 minutes.
Preheat oven to 350°.
Take the dough out of the freezer and place your pie weight or pie weight beads on the crust (see notes). Bake frozen dough for 25 to 30 minutes, until bright yellow and firm to the touch. Let it cool completely (you may cool in the fridge) before removing from pan and filling it with the blackberry blueberry curd.
To make the filling: In a small saucepan combine berries, the two tablespoons of sugar and lemon juice. Heat over medium-low heat and bring to a gentle boil. Cook for about 5 minutes, 15 to 20 minutes if using frozen fruits, until the fruits start to break. Retire from heat and lightly blend in a small blender or Nutri-Bullet, just to finish breaking down the fruits. Don't let the fruits get mush. Pass the liquid through a sieve, pressing the most of juice out of it. Set aside.
Rinse the saucepan and bring the coconut milk, the remaining ¼ cup of sugar and vanilla to a gentle boil. Add the berries juice and cook for about 3 minutes. Retire from heat and add the flour. Whisk until combine, then return to heat and cook for about 3 to 4 minutes more, whisking almost constantly, until the mixture gets a thick consistency.
Pour mixture into the baked shell. Chill for 6 to 8 hour or overnight. Decorate with fresh fruits, nuts or cream before serving.