Blueberries & Chocolate Chip Muffins
I need to confess: we need pastries for breakfast. Not all days. Not all the time. But definitely pastries are our comfort breakfast to go.
To make sure we had a grab-and-go breakfast pastry a couple of weeks ago I made these muffins which will not make you choose between fruit or chocolate or nuts. They have them all!
It has been a while since I made a batch of muffins so for a spectacular comeback I wanted something delicious as well as good for breakfast. That's why, besides the eggs, these have a kick of extra protein with the ricotta cheese (which makes them extremely fluffy by the way) and some almond flour. You can add chopped pieces of nuts on the top crumb of course! And the best part is this combo of blueberries and chocolate chips that make these muffins so mellow and decadent, even if I used the least amount of sugar possible to make them just sweet enough. But you'll notice they still are not overly sweet.
Loved the idea of making them in a popover pan! All muffins should be made on them. They ended up so tall and because they had more space to rise up, they turned out so airy. And it's so fun for a change! You absolutely can make them in a regular cupcake pan for sure. Anyway, you and anyone who eats them will love them as much as we do!
Recipe notes:
1. When baking batters with blueberries, I always prefer to use frozen because they will hold their shape nicely and won't bleed as much as fresh blueberries. For pies I'll use fresh ones.
2. Coating the blueberries with flour will help with the bleeding and also will prevent them from sinking.
3. This is completely optional but if you have the time let the prepared batter resting in the fridge for 20 to 25 minutes. This will allow the flour to hydrate better and the gluten to develop so the muffins will hold their shape nicely.
4. Make sure to spray your pan completely, including the surface on top. This will prevent the top of the muffins from getting stuck on the pan.
5. Be careful when turning your pan for removing the muffins, especially if using a popover pan. They could be still a bit wobbly in the center and could crumble in the removing process. Just turn the pan and let the muffins slide. If there are some that are not coming out gently try to unstick the edges of the muffin top from the pan and try to remove again.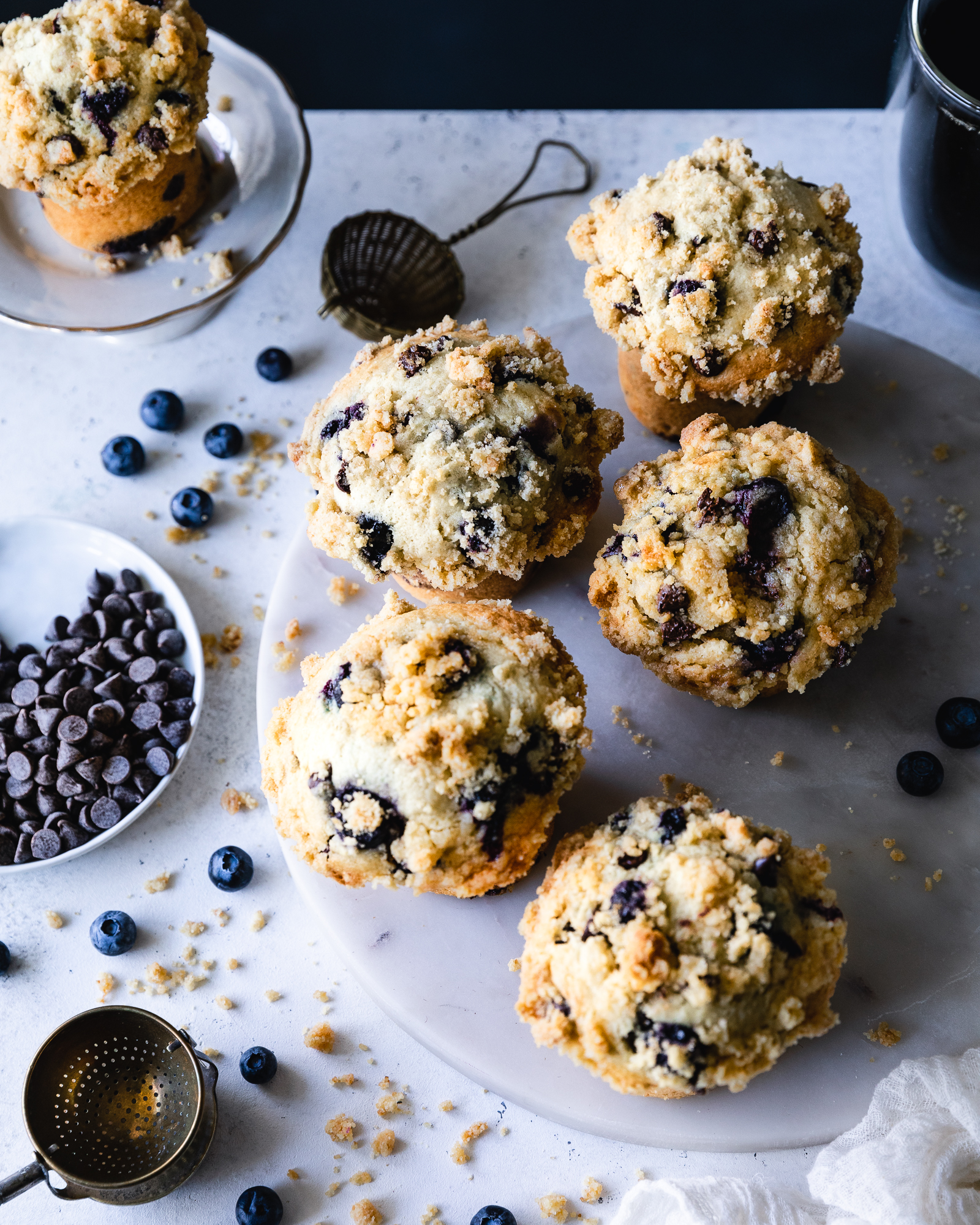 Blueberries & Chocolate Chip Muffins
Crumb
Raw sugar – 4 TBSP
Brown sugar – 4 TBSP
Unbleached all purpose flour – ⅔ cup
Butter, semi softened – 5 TBSP
Pinch of fine sea salt

Muffin batter
Semi-sweet chocolate chips – 1 ½ cup
Unbleached all purpose flour – 2 ½ cups + 1 ½ TBSP
Blueberries, preferably frozen (see notes) – 1 ½ cup
Almond flour – ½ cup
Baking powder – 4 Tsp
Fine sea salt – 1 Tsp
Raw sugar – 1 cup
Organic free range eggs – 2
Ricotta cheese – ½ cup
Vegetable oil – ½ cup
Coconut milk – 1 cup
Pure vanilla extract - 1 Tsp
12 to 14 muffins
Total time - 45 minutes Active time - 15 minutes
Equipment - Popover or cupcake pan, hand whisk, large bowls

To make the crumb: Preheat oven to 350°. Grease with butter or baking spray a cupcake or popover pan.
Place together the crumb topping ingredients in a small bowl and mix using a dinner knife so you can cut out throughout the butter. The mixture should not be homogeneous but crumbly and lumpy. Place in the fridge just for a few minutes while you prepare the batter. (If making the crumb in advance, take it out of the fridge before you start working with your muffins so it looses the chill a little bit and its easier to work with it using your hands.)
To make the muffins: Prepare a bowl with the chocolate chips and the 1 ½ tablespoon of flour. If using fresh blueberries you may mix them in at this moment. If using frozen, wait until you are ready to incorporate them with the muffin batter to take them out of the freezer and mix them in with the chocolate chips.
In a medium bowl mix flour, almond flour, baking powder, salt and sugar with a hand whisk.
In larger bowl beat eggs, ricotta, oil, coconut milk and vanilla using a hand whisk as well.
Make a well in the center of the flour mixture bowl and pour the wet ingredients mixture in the center. Using a wooden spoon start to gently incorporate the flour into the liquid. After you have incorporated a good amount of the flour start to gently beat towards the walls of the bowl to break big lumps of flour. Mix just until well incorporated and until all the flour seems wet.
Add the chocolate chips and blueberries and fold in the batter.
If you have the time, let the batter rest in the fridge for 15 to 20 minutes (see notes).
Fill each spot of your prepared pan almost to the top, about a bit more of ¾ the space. Cover the top with about one to two tablespoons of the crumb. Place pan in oven and bake for 20 to 25 minutes, until they have a golden yellow color and a toothpick comes out clean after inserted through the center of the muffin.
Let them cool for a few minutes before gently turning upside down the pan over a baking sheet or counter to take the muffins out (see notes). They will be good for up to a week in a cool dry environment. You may store them in the fridge as well and reheat them in the microwave before eating.