Chai Hazelnut Blondie Cheesecake Bars
These Hazelnut Chai Tea Blondie Cheesecake Bars have everything you want to start the fall season. The blondie layer is dense and full of warm notes thanks to the toasted hazelnuts and all the chai spices that give you that nice kick. The cheesecake layer is simple and just the creamiest. And finally a thick chocolate ganache layer on top that makes everything better!
Did I already tell you I'm becoming a bar and cookie person? I don't know what it's happening to me! I'm a cheesecake-tart-cake kind of gal. The kind that you would serve a slice on a plate and eat it with a hot cup of coffee, tea or even wine, making a whole ritual out of it. But, maybe because I'm succumbing to the instant gratification culture, I'm finding so much joy in the act of grabbing a hand size treat and have a few sweet bites for a pick-me up. And everything happens in less than 3 minutes. No ritual at all.
I wanted to make these Chai Blondie Cheesecake Bars after you guys and everybody around here loved my Lemon Curd Cheesecake Brownie Bars. It's basically the same formula but the flavors are completely opposite. The lemon ones are floral sweet and this ones are warm spicy sweet. I made my own Chai spice mix following a recipe published on the Bake from Scratch magazine latest edition (where yours truly were featured, if you must know) and it worked perfect here. You can totally omit the black pepper if you are new to Chai spices and want something sweeter.
What I did here was to use the about half of my blondie base recipe from my Lemon Blondie Bars as the base, half recipe of my New York Style Cheesecake and about half recipe of he chocolate ganache filling from my Easy Chocolate Tart, which I also used for my Chocolate and Fig Cheesecake Tart.
These bars will make you want stay in fall the whole year!
Recipe Notes:
1. If you are not used to the taste of chai I suggest you leave out the ground black pepper for a more subtle flavor.
2. You can also swap the hazelnuts for any other nut of your choice. I like the idea of nuts in the blondie layer because they add a bit of texture to this delicious treat.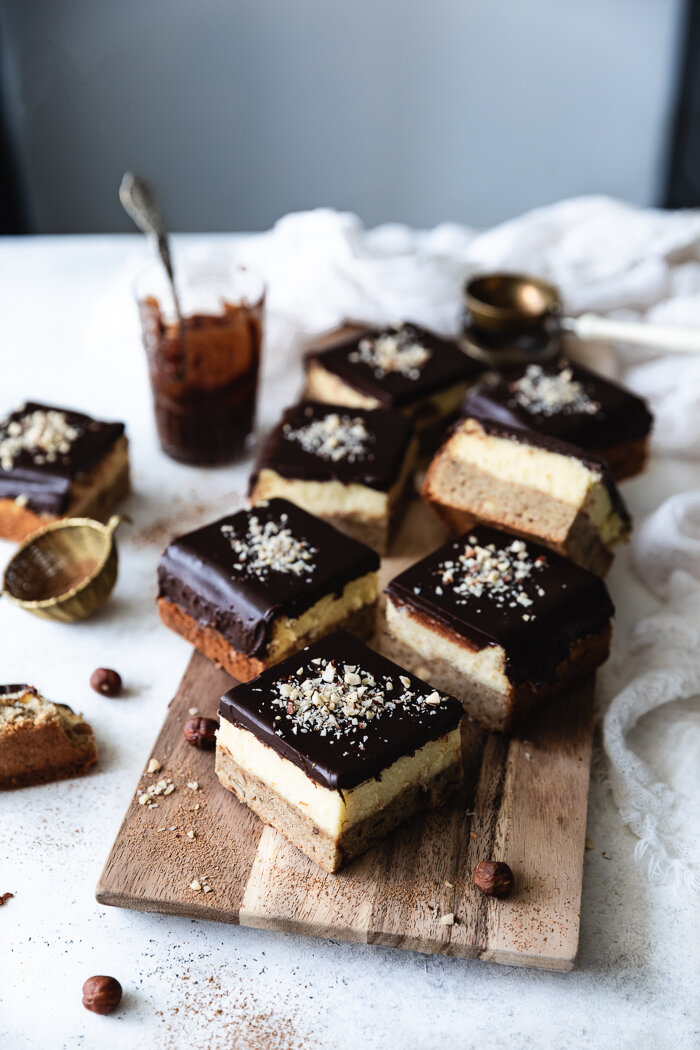 Chai Hazelnut Blondie Cheesecake Bars
Chai Spice Mix
Ground cinnamon – 3 TBSP
Ground ginger – 1 ½ TBSP
Ground Cloves – 1 TBSP
Ground Cardamom – ½ Tsp
Ground black pepper – ½ Tsp

Blondie Layer
Unbleached all purpose flour – ¾ cup
Chai spice mix – 1 ½ Tsp or 2 for a stronger Chai flavor
Fine sea salt – ¼ Tsp
Butter, softened – 8 TBSP (1 stick)
Brown sugar – ½ cup
Raw sugar – ¼ cup
Eggs, softened – 1
Pure vanilla extract or paste – 1 Tsp
Toasted or roasted hazelnuts, skin off and roughly chopped – ½ cup

Cheesecake Layer
Cream cheese, at room temperature – 2 - 8 oz packages
Raw sugar – ¾ cup
Eggs – 2, large
Egg yolk – 1, from large egg
Unbleached all purpose flour – 2 TBSP
Lemon juice – 1 TBSP, about the juice of half a medium lemon
Vanilla paste or pure vanilla extract – ½ Tsp

Chocolate Ganache Layer
Coconut milk – ½ cup
Raw sugar – 2 Tsp
Cocoa powder – 1 Tsp
Drops of vanilla
Dash of fine sea salt
Semi-sweet chocolate chips – 1 cup
For an 8 x 8 square pan
Total time - 1 ½ hour + overnight chilling time in the fridge Active time - 25 minutes
Equipment - 8 x 8 square baking pan, stand mixer or handheld electric mixer, parchment paper, baking spray
To prepare your 8 x 8 pan: Cut a piece of cold butter and rub the bottom and sides of your pan. Rub the outer sides as well. This will serve as "glue" to keep parchment paper on place.
Cut 2 - 8" x 16" parchment paper pieces (I use this unbleached parchment paper that is already cut in 12" x 16" sheets, so I just had to cut it 8" wide). Place one paper centered into the pan and press through the bottom and sides, inside and out. Rub some butter on the parchment paper area inside the pan and place the other piece of paper across. Again press the paper through the bottom, inside and outside the pan to seal it toward the pan. Spray some baking spray on the bottom and sides of your pan. Place it in the fridge.
To make the blondie layer: Preheat oven to 350°. Prepare you pan according to instructions.
In a medium bowl mix the flour with the spices and the salt.
Beat butter with sugar in the bowl of a stand mixer with the paddle attachment or using a handheld electric mixer on medium speed for about three minutes. Decrease speed to low and incorporate eggs, one at a time, and vanilla. Scrap the bowl down and add flour mixture, about 2 tablespoons at a time. Stop as soon as the last flour addition is incorporated and mix by hand any visible dry flour. Scratch the bottom of your bowl to make sure there are no big lumps of flour there. Add the hazelnuts and gently mix once more.
Transfer batter to prepared pan. Bake for 10 minutes.
In the meantime prepare cheesecake batter.
To make the cheesecake layer: Either in the bowl of a stand up mixer and using the whisk attachment or in medium bowl using an electric hand mixer with the beaters attached, beat together in medium speed the cream cheese for 3 minutes. Add the sugar and mix for 1 minute, making sure there is no sugar on top of the bowl. Decrease speed to low and add the eggs and egg yolk, one at a time. Add flour, lemon juice and vanilla paste, waiting a few seconds before each addition to allow each ingredient to incorporate well. Mix in the vanilla. Scrap the wall of the bowl between additions, if needed. Stop mixing as soon as everything is well incorporated.
Take out from oven the blondie layer and increase oven temperature to 425°. When the oven is ready pour cheesecake mixture over blondie layer. Bring pan to oven and bake for 5 minutes and then drop oven temperature to 275°. Bake for 30 minutes, until the mixture looks shiny and firm but not dry. If it is still wobbly in the center, bake it for 1 or 2 more minutes. Retire from oven and let it cool down for 10 minutes, then chill in the fridge for at least 30 minutes before pouring chocolate ganache layer.
To make the chocolate ganache layer: Place chocolate chips on medium glass or metal bowl.
In a small saucepan heat the coconut milk and sugar just until simmering. Retire from heat and pour over chocolate chips. Wait about a minute and then mix until chocolate is completely melted. Add the vanilla and salt and mix once more. Pour the chocolate mixture over the cheesecake layer. Chill for about 6 to 8 hours, ideally overnight.
To serve, cut in squares and sprinkle some chopped hazelnuts on top if desired.