Cheese Flan
less is More
Cheese flan is something that you just don't mess up with it. It has no garnishes, fancy sauces or decorations for a reason. You are suppose to taste and enjoy just the thick and creamy texture. And maybe get a hit of bitterness of that took-out-just-before-its-burnt caramel sauce. That's its whole purpose. That's the real pleasure.
You'll find a good flan in every holiday table or in most restaurants, especially the ones that serve more traditional cuisine. There are not many variations (return to first paragraph) but there are some variations on flavors such as vanilla and coconut. But my favorite of all is cheese flan. Probably it was my first flan as a little kid and probably it's the reason why I love creamy and dense textures so much. There's only one place that serves the most creamy and decadent cheese flan; a local Mexican restaurant. That's the place where I first tried it, probably more than 30 years ago, and to this day it's still the best cheese flan around.
I think my recipe lives up to that flan. It's creamy, soft and I bring my caramel sauce to almost burn. I tell you guys, if you haven't tried a flan yet this is the real deal.
Recipe notes:
1. You may use any baking pan that is around 7" to 9" in diameter and is alt least 2" deep.
2. As I mentioned, I cook my sugar until it has a deep golden brown color. The smell would guide you but if you are in doubt, better to take it out of the heat before the sugar gets burned. Remember that as soon as you take it out it will start to harden and you are not suppose to bring it back to the heat because the sugar could crystalize.
3. This dessert id definitely best on th next day, even its second day, so it's perfect to plan ahead and make in advance. Just keep it chill in the fridge covered so the sauce doesn't dry up.
4. If the flan gets stock when turning upside-down, submerge the bottom part in a big bowl of simmering or very hot water for several minutes to loosen the caramel sauce.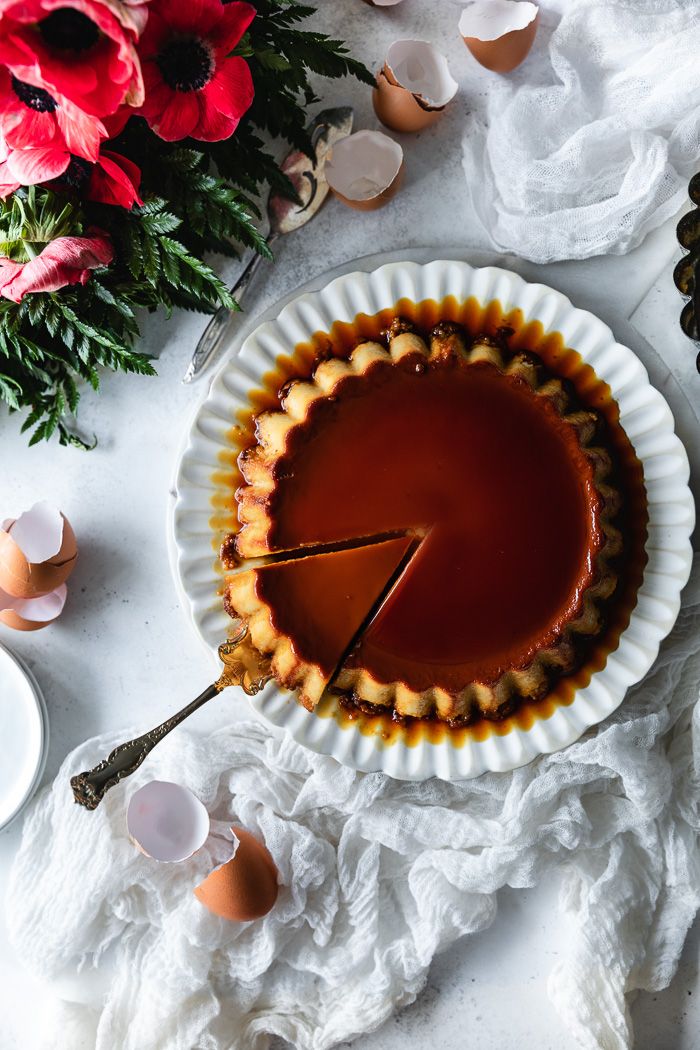 Sugar – 1 cup
Water – ¼ cup
Cream cheese at room temperature – 12 oz
Sweetened condensed milk – 1 can (14 oz)
Evaporated milk – 1 can (12 oz)
Eggs at room temperature – 5
Vanilla extract – ¼ Tsp
Total Time - 1 hour and 15 minutes plus several hours for chilling Active time - 20 minutes
Equipment - blender, large baking sheet, glass, ceramic or stainless steel pan of 7" to 8" of diameter and at least 2" deep.
Preheat oven to 350°. In a saucepan or a tea kettle simmer about 4 cups of water.
In a small saucepan combine sugar with water. Combine using a hand whisk. Heat in medium heat and whisk occasionally, just until a paste forms from the sugar and water. Let the sugar melt, swirling around the saucepan form time to time to stir. Cook until the sugar is dark golden brown and has a strong caramelized smell. Be careful not to burn the sugar (see notes). Pour immediately the caramel sauce in your baking pan. Swirl it a bit or use a pastry brush to quickly spread some of the sauce around the pan. Set aside.
In a blender mix the rest of the ingredients until well combine. Pour the liquid into the prepared pan through a sieve to prevent lumps getting into the batter. Place the pan in a large baking dish and fill the large pan until half through with the hot water, bain-Marie style. Place in the oven and bake for 50 minutes, until set through the edges but still with a slightly jiggle in the center. You may insert a toothpick to see if it comes out clean, it doesn't matter if it looks a bit moist though. Remove pan from the oven and let it cool down in the bath water. Chill for at least 5 hours or preferably overnight.
When ready to serve, run a hot knife through the edges to loosen it up. Set a serving plate over the flan and flip upside-down. If the flan is not coming down, insert just the bottom of the pan in a bowl with hot water to melt the caramel sauce.