Chocolate Cheesecake Fig Tart
Meet me in the middle
I created the perfect mash-up between a chocolate tart and a cheesecake, the two best desserts ever! Let me tell you why I did that. Living in a Caribbean it's not often that I have the surprise to find certain delicate fruits that usually never made their way to this beautiful island. Here I can talk about rhubarb, elderberries, black raspberries and figs. So you'll had to excuse my uncontained excitement when the other day, during a week when I was decided to take a break (like that would happen!), I found some beautiful juicy figs on display. I knew I would need to use them right away. The break will have to wait!
I shared on my Instagram Stories the picture of my figs and asked you guys what would you want me to do with them, secretly wishing you would all scream chocolate tart. And yes you screamed, but you screamed cheesecake!!! Not that I would complain about that. But the chocolate tart came in a close second, so I decided to make the ultimate mash-up: a cheesecake chocolate tart with fig marmalade in the center of these two layers. Two of my favorite things combined. The best way to please everyone!
This cheesecake chocolate tart is very easy to put together, you just need to make it the day before you want to serve it because it's important to chill the layers in between the processes. But it's all made with everyday ingredients and some simple steps. It's so sweet and delicious! Cheesecake and chocolate together, what's not to love?!
Recipe notes:
1. If you don't have figs around or don't like them you can use another marmalade and use that fresh fruit to decorate. I think berries will be too sweet but apricot, guava or orange marmalade have to work perfectly.
2. If using a tart pan with a removable bottom, wrap the pan half way thru with aluminum foil to prevent water running to the inside. If you are using a springform pan you can do this but it's not essential.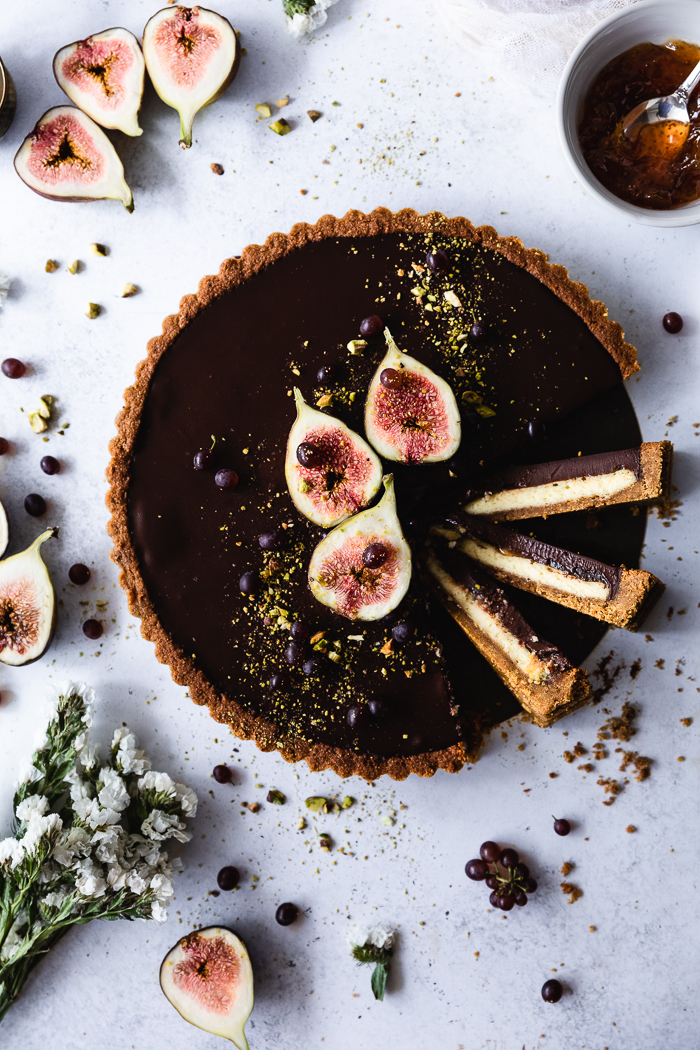 Chocolate & Cheesecake Fig Tart
Crust
Pistachios – ½ cup
Traditional graham crackers – 8 oz (15 whole rectangular cookies), broken in small pieces
Unsalted butter – 10 TBSP (1 ¼ stick)
Raw sugar – 2 TBSP

Cheesecake Layer
Cream cheese – 2 boxes
Raw sugar – ¾ cup
Unbleached all purpose flour – 1 TBSP
Freshly squeezed lemon juice – 1 TBSP
Vanilla extract – 1 Tsp
Organic cage free eggs – 2
Egg yolk – 1

Fig Marmalade and Chocolate Ganache Layer
Semi-sweet chocolate chips – 1 ½ cups
Coconut milk – ¾ cup
Raw sugar – ½ TBSP
Vanilla extract – ¼ Tsp
Pinch of fine sea salt
Chopped pistachios to decorate
For a 9 ½" fluted tart or springform pan
Total time - 2 hours, mostly baking or chilling, plus overnight time on the fridge Active time - 30 minutes
Equipment - 9" to 10" fluted tart or springform pan, handheld or stand mixer

To make the crust: Preheat oven to 350°.
Spray the bottom of the pan with cooking or baking spray.
Place the butter in a small saucepan and heat on medium-low level until just melted. Shake a bit the pan to melt of the small pieces of butter. Retire from heat.
Place pistachios in the bowl of a food processor already attached to the base. Run until the pistachios are grounded. Add the cookies, breaking them in pieces while you throw them to the bowl, and run the processor once more, until the cookies are finely grounded. With the processor running pour in the melted butter until the crumbs look well covered with it, about 10 to 15 seconds. Stop the processor and pull down any crumbs crawling up the walls of the bowl if necessary and pulse a few seconds more. Transfer the content to your baking pan. Press onto the bottom and up to the sides, until the crumbs are evenly distributed and you have reached the top edges of the pan with them. You may use a small flat bottom measuring cup or utensil to help yourself press down and distribute the crumbs. Bake for 8 minutes. Take it out of the oven to let it cool down.

To make the cheesecake layer: Increase oven temperature to 450°.
Either in the bowl of a stand up mixer or in medium bowl using an electric hand mixer, beat the cream cheese in medium speed for about 3 minutes. Incorporate sugar, flour lemon juice and vanilla. Start adding the eggs and egg yolks, one at a time. Scrap the wall of the bowl between additions, if needed. Stop beating as soon as the last yolk is incorporated.
Place your baking pan in a baking sheet. Pour filling into it. Place the baking sheet with the pan on the middle rack of the oven. Fill the baking sheet with water almost to the top (see notes). Close oven door and bake for 5 minutes, After that, turn down the oven to 275° and bake for 30 to 35 minutes, until the cheesecake is firm but the center is slightly wobbly if pan is shaken a bit.
Turn oven off and let the cheesecake there with the door halfway open for a couple of minutes. Let it cool down a bit and then place it in the fridge for about 45 minutes to an hour.


To make the Fig Marmalade and Chocolate Ganache Layer: Carefully spread the fig marmalade over chilled cheesecake layer.
Place chocolate chip on medium glass or metal bowl. In a small saucepan heat the coconut milk and sugar just until simmering. Retire from heat and pour over chocolate chips. Wait about a minute and then mix until chocolate is completely melted. Add the vanilla and salt and mix once more. Pour the chocolate mixture over the fig marmalade layer. Chill for about 6 to 8 hours, ideally overnight.
Decorate with chopped pistachios and fresh figs.