Easy Flourless Chocolate Cake with Coffee and Cinnamon
I'm simply in love with this cake. I love the magic of how it puffs and then deflates leaving that amazing chewy cracked crust. You have it made in less than 2 hours and it's ready to eat immediately. I brought it for a family lunch later that day and the only bad thing was that that there was no freaking ice cream around to put a big ball on top of it. Just giving you ideas guys!
That's all for this one. I gotta go finish an orange tart. But I think the pictures scream by themselves that you. need. to. make. this. soon.
(Easter is around the corner. Wink, wink!)
Recipe notes:
1. Remember that is easier to separate your eggs when they are chilled. Place the whites in a bowl and the yolks in another bowl so they get to room temperature. Egg whites will grow more and faster when they are beaten at room temperature.
2. You may use espresso powder instead of coffee granules, or omit it completely. You can also leave out the cinnamon.
3. I highly recommend using a parchment paper at the bottom of the pan because this cake is very delicate and if you pull a tiny bit it will start to crumble.
4. I used 12 oz of chocolate chips (a whole small pouch) for a fudgier texture. If you prefer a lighter, cakier texture use only 8 oz of chocolate.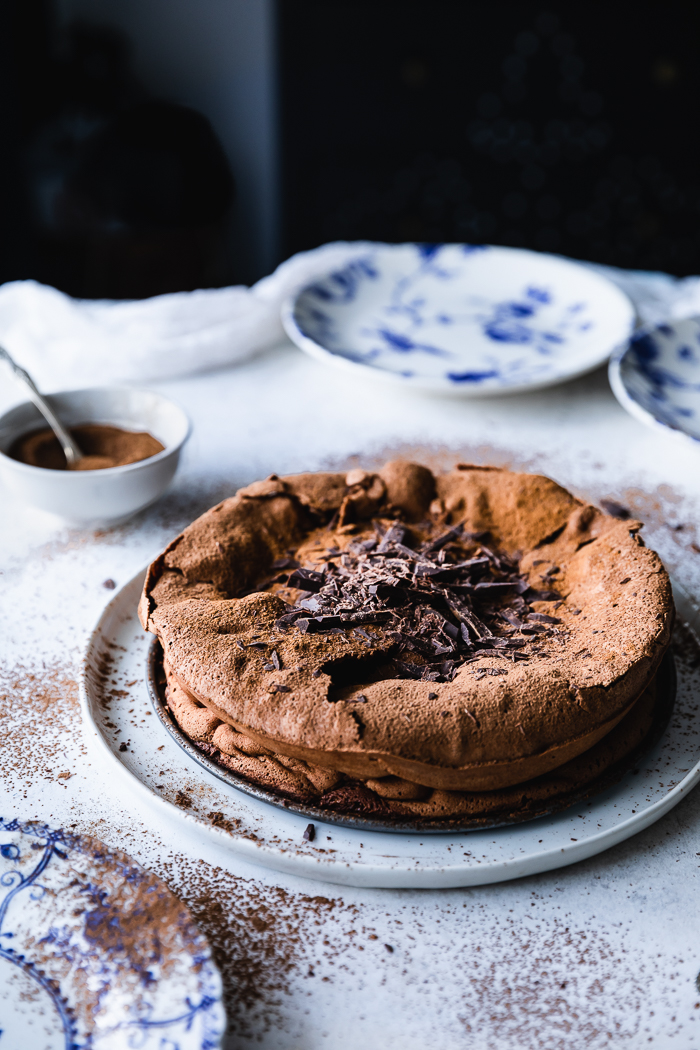 Easy Flourless Chocolate Cake with Coffee and Cinnamon
Semi sweet chocolate chips – 12 oz (see notes)
Butter – 6 TBSP
Large organic eggs – 6, separated and at room temperature
Raw sugar – ½ cup
Vanilla extract – 1 Tsp
Instant coffee granules – 1 Tsp
Ground cinnamon – 1 Tsp
Pinch of salt
Cocoa powder for dusting after baked
A 8" to 9" flourless chocolate cake
Total time - 1 hour and 10 minutes Active time - 25 minutes
Equipment - Springform pan, large glass bowl or double boiler, stand mixer or hand electric mixer
Preheat oven to 300°. Grease the sides and bottom of an 8" or 9" springform pan. If you have parchment paper on hand, cut a piece the same size of your pan and line the bottom.
Place a large glass bowl over a skillet and fill it with water half way thru. Add the chocolate and butter and heat on medium low heat. Using a silicon spatula or wooden spoon mix until all the chocolate is melted. Retire the glass bowl from the skillet and let the chocolate mixture cool completely.
In the meantime beat the egg whites either using a stand mixer or using a hand electric mixer in medium-high speed (#6 on the Kitchen Aid) until soft peaks form, about two minutes. Slowly add the sugar while still beating, 1 tablespoon at a time. Beat just until the sugar has fully incorporated and the egg whites are fluffy but still are not on the meringue stage, about a minute. Set aside.
To the now cooled down chocolate add the egg yolks, vanilla, coffee, cinnamon and salt and stir together.
Add ⅓ of the egg whites to the chocolate and very gently stir together. Add the rest of the egg whites and this time gently fold the egg whites in to the chocolate, being careful of not deflating the whites too much.
Pour the cake batter in the springform pan and bake for 45 minutes. Remember that at the end the cake will be puffy but it will deflate once you take it out of the oven. Let it cool down completely before releasing from the pan. Using a big silicon spatula try to carefully separate the cake from the parchment paper or turn the cake upside down into a plate, remove the paper and then turn it over again into your serving plate.
Dust with plenty cocoa powder for serving.