Eggs Florentine with Pesto Over Sautéed Baked Potatoes
Hot Potatoes
I made these delicious Eggs Florentine the other day and wanted to share the recipe with you guys because it's not only delicious, but it's truly easy and clever. A great alternative if you are looking to ditch the bread every once in a while. I know, it's hard, especially on mornings. But eggs with potatoes are a match made in heaven so this combination is as good as any warm bread and creamy butter for a comforting breakfast.
One of the keys in this dish is that I sautéed the potatoes with lots of olive oil and a good amount of fine sea salt before baking them in the oven. That created a nice, golden, juicy and salty potato skin. I also sautéed some spinach to fill the potatoes for a nice green touch in every bite.
I've been daydreaming about pesto over poached eggs for a while so this was the perfect moment because I happened to have on my hands a big bunch of basil leaves. So to the food processor they went with the other pesto components that makes it one of the most delicious sauces on Earth. Really, with pesto, you don't need much more! I used a bit of sauce on each egg so I ended up with a nice amount of pesto for several dishes during the week. Bonus points!
The other cool thing is this Hollandaise sauce that I made in the microwave nonetheless. I have been pretty skeptical about this since I read it the first time. I would never ever want to compromise flavor or texture for a 30 seconds shortcut. But this is truly a game changer for brunch lovers like us (I hope you are one of my species too!). You just melt the butter, mix with the egg yolks and the rest of the ingredients and then start cooking in 10-seconds intervals. I promise it will emulsify and come together. You can appreciate the texture on the pictures.
Are you adding these to your next brunch? Really hope you do. I'm sure you are going to love them!
Recipe notes:
1. For nice golden potatoes, sautée them first in olive oil before roasting.
2. You can swap spinach for Canadian bacon to make some Eggs Benedict.
3. Even though you can store pesto leftover for later use during the week, I would not recommend storing any Hollandaise leftover.
4. If doing fewer potatoes, feel free to cut in half the ingredients to make the Hollandaise. You can make half of the pesto as well, but probably won't have much leftover for other dishes later.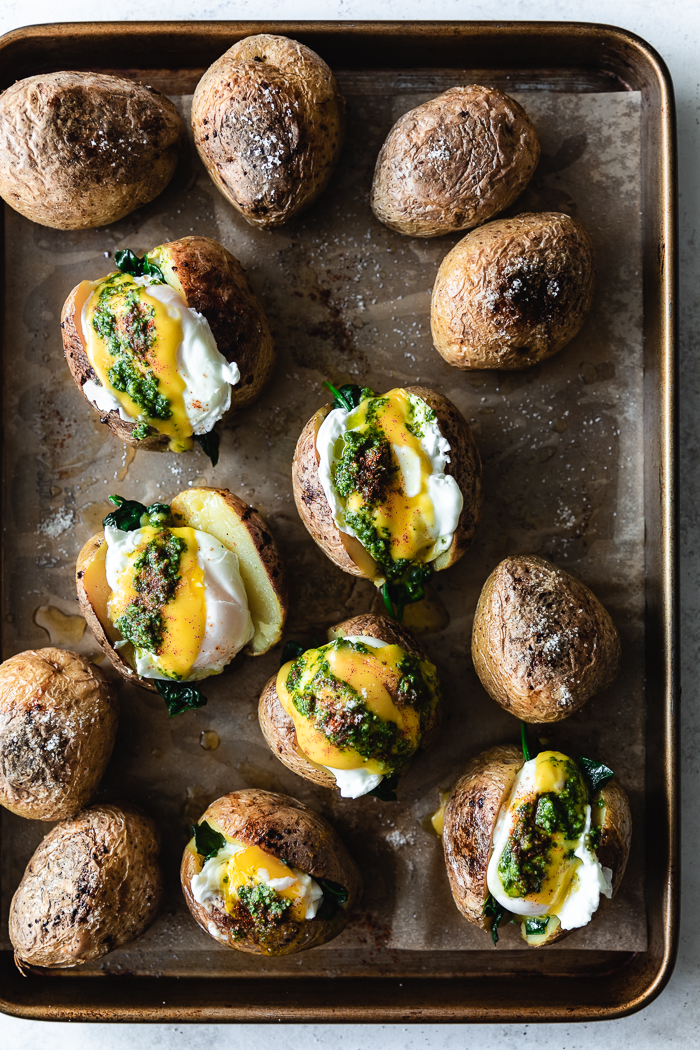 Eggs Florentine with Pesto Over Sautéed Baked Potatoes
Eggs Florentine with Potatoes

Small golden or Russet potatoes – 4 to 6, 1 or 2 per person
Olive oil – ¼ cup
Fine sea salt – ½ Tsp + a pinch for the spinach
Fresh spinach, washed – 3 cups
Eggs – 4 to 6 to serve
White vinegar – ½ Tsp

Hollandaise sauce

Butter – 8 TBSP (1 stick)
Egg yolks – 4
Fine sea salt – ¼ Tsp
Freshly squeezed lemon juice – ¼ TBSP
Red cayenne pepper –a pinch to ¼ Tsp or to taste

Pesto sauce

Fresh basil leaves – 2 cups
Ground garlic – 1 Tsp (or 2 cloves of garlic)
Pine nuts – 5 TBSP
Parmesan or Pecorino cheese - ⅔ cup
Fine sea salt – ¼ Tsp
Extra virgin olive oil - ⅓ cup

About 4 to 6 potatoes
Total time - 35 minutes Active time - 20 minutes
Equipment - Baking tray, small bowls and food processor
To make the potatoes: Preheat oven to 425°.
In a large skillet heat olive oil over medium-high heat. Place the potatoes on the skillet and sprinkle with half of the salt. Turn them and sprinkle with the remaining salt, making sure that you are also sprinkling salt on the sides (use more salt if needed). Let the potatoes cook for about 3 to 4 minutes per side, until skin is juicy, golden and a bit charred. Make sure to also turn the potatoes on their side for a few seconds to make sure everything is well coated and seasoned.
Place potatoes on a baking sheet. Bake for 10 to 15 minutes, depending on the size of the potatoes, then flip them over and bake for 10 to 15 minutes more, until you pierce them and the potatoes are soft through the center.
While the potatoes bake, toss the spinach in the same skillet and on the same oil you sautéed the potatoes, sprinkling a pinch of extra salt if needed. Set aside.
To poach the eggs, fill a small to medium saucepan through half with water and mix in the vinegar. Bring to a boil over medium-high heat and then lower the heat to simmer. Carefully open an egg in a small bowl (as a ramekin) or a small measuring cup with handle. Dip part of the border of the bowl and gently turn it to let the egg drop. Let it cook for about 3 minutes for a soft yolk. You can cook 3 to 4 eggs at the same time.
Take the potatoes out of the oven and let them cool a bit before opening them. Open a potato and stuff in some of the spinach; top it with an egg and pour some Hollandaise and pesto sauces to finish.
To make the Hollandaise sauce: In a small saucepan gently melt the butter.
In a small microwaveable bowl mix the rest of the ingredients. Slowly and in a stream add butter to eggs while whisking with a hand whisk. Whisk a minute more to make sure everything is incorporated. Heat in the microwave for 10 seconds. Take it out and whisk vigorously again. Repeat the process several times, until the sauce is thick and emulsified. It took me up to 5 trips to the microwave until I saw the sauce come together and achieve a nice thick texture. If you feel the sauce is separating, just add a bit of warm water and whisk like there's no tomorrow for a few seconds, then continue with the process in the microwave if necessary.
To make the pesto sauce: In the bowl of a food processor already attached to its base, mix all the ingredients except olive oil for 10 seconds, until the basil leaves are finely chopped but not completely crushed. With the motor running start pouring olive oil though the lid hole until everything is well mixed and the sauce seems emulsified, about 10 to 15 seconds after you end pouring the oil.
Serve over eggs and potatoes and store any leftover in an airtight container for a couple of weeks.