Frangipane Madeleines with Hibiscus Glaze
One time's a Charm
As it happens with most things in life, there are tasks that you simply keep escaping because you don't need to complicate your life more, until you roll up your sleeves, make it and realize how easy it was, and how sad for you that you didn't make it before.
Enter here frangipane. Even though I knew it only takes a few ingredients, I never gave in to the idea of making it and start incorporating in my recipes. But it only took me one time making it to realize how easy it is to make and how much flavor and texture it adds to a confection.
You can use it as a base for fruit tarts and pie and as a filling for sweetened bread or puff pastry. But for some reason though I though it would work so nicely on a sponge cake batter. You know, one of those realization moments when you are casually thinking about cakes and custards. I think it's one of the best things I have imagined. The frangipane makes these madeleines soooo light and moist. The texture is a dream and the flavor it adds is intrinsic and delicate.
That's why I wanted something as delicate as these cakes for the glaze. A hint of sweetness and texture just to compliment them. I wanted to make it very thin and sheer in color so the pretty scalloped pattern showed through it. That's why I like to call it lip gloss glaze, because it's something very sheer, just to add a whisper of color and shine. Here's a guide a made on how to make different type of glazes. You can omit the glaze of course, and just dust some confectioners' sugar. But I like my madeleines dolled up, so lip gloss glaze is what I'll be pouring on them form now on!
Recipe notes:
1. Make sure you are working with room temperature eggs because this is key for the rise. I know waiting for this could be annoying but a way to speed up the process is to submerge the eggs in a bowl with hot tap water for about 10 minutes.
2. When beating the eggs and sugar you need to do it in high speed. I used my stand up mixer but you can use a hand electric mixer as well. The important thing is to beat them in high speed for a minimum of 8 minutes. I have beaten them for about 12 minutes if I'm still prepping the rest of my ingredients.
3. You'll have time to sift the flour when the eggs and sugar are mixing.
4. Remember to fold gently the batter. You don't want to deflate it in the process.
5. It's important to bring to the oven chilled batter. If you only have one madeleine pan as I do, keep in the fridge the remaining batter until he pan is ready to use.
6. Brush the pan liberally with melted butter for baking the madeleines.
7. Remember to check my guide on how to make a glaze so you can play around with flavors and textures.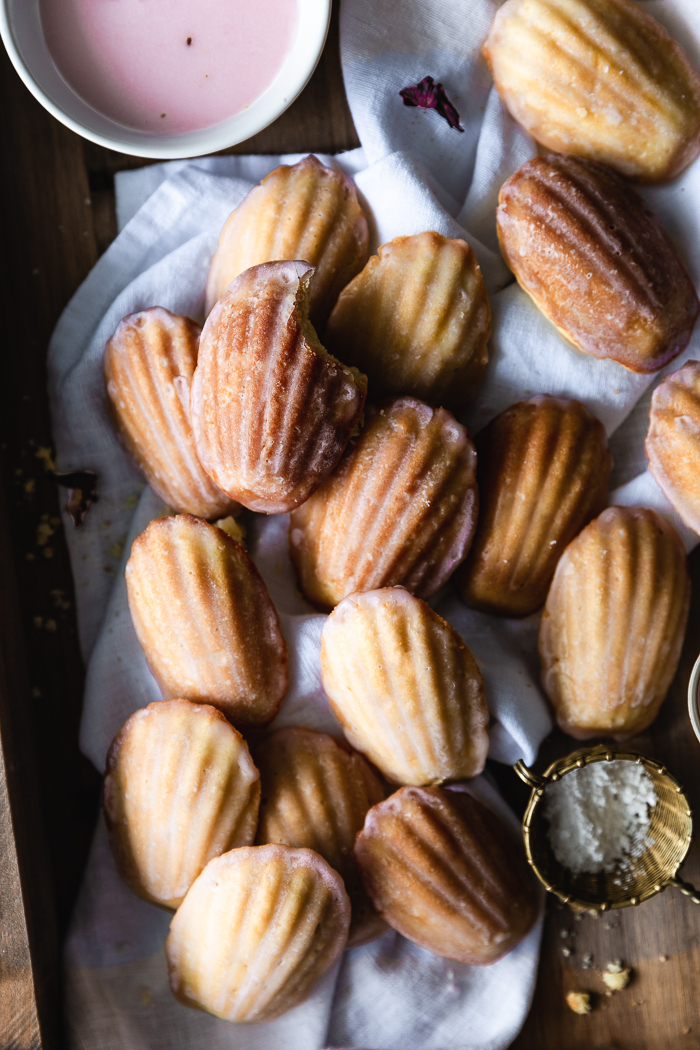 Frangipane Madeleines with Hibiscus Glaze
Frangipane
Unsalted butter – 7 TBSP
Raw organic sugar – ¼ cup
Almond flour, or finely grinded almonds – ¾ cup
Eggs, room temperature – 2

Madeleines' Batter
Organic unsalted butter – ½ cup (1 stick) + 2 TBSP for the pan
Organic free range eggs, at room temperature – 2
Raw sugar – ½ cup
Pure vanilla extract – 1 Tsp
Unbleached all purpose flour, sifted (see notes)– 1 cup
Baking powder (optional) – ⅛ Tsp
Fine sea salt - ⅛ Tsp

Hibiscus Glaze
Hibiscus flower – ¼ cup
Water – 1 cup
Confectioner's sugar, sifted – 2 cup
20 to 25 madeleines
Total time - 1 1/2 hour Active time - 30 minutes
Equipment - Madeleine cake pan, stand mixer or hand electric mixer
To make the frangipane: In the bowl of a stand mixer with the paddle attachment or in a medium bowl using a handheld electric mixer beat the softened butter with the sugar in medium speed for about 5 minutes. Add the almond flour and beat for 2 minutes, stopping the mixing and scraping down the walls of the bowl if necessary. Add the eggs, one at a time, and beat until everything is well incorporated. Place in the fridge for just 5 minutes, then set aside.
To make the madeleines: In a small saucepan melt the butter, then retire from heat and let it cool while you mix the eggs and sugar.
In a stand up mixer with the whisk attachment or using a handheld electric mixer with the whisk attached whip the eggs and sugar in high speed for a minimum of 8 minutes, until the mixture is thick and looks pale yellow and when you lift the beaters the batter forms ribbons when returning to the bowl. Add in the vanilla extract and mix just until combined, about 20 seconds.
While whisking the eggs and sugar, sift the flour, baking powder and salt in large bowl.
Using a wooden spoon or a small spatula gently fold half of the flour mixture into the egg mixture. When incorporated fold in the remaining half of the flour mixture.
Stir about ¼ of the batter into the melted butter and mix until everything is well incorporated, it will take a bit more than 1 minute. Stir the butter mix in the remaining batter and mix well until everything is incorporated and the batter looks thick and shiny, about two extra minutes. Gently fold the frangipane into the batter. Cover the batter and chill in the fridge between 30 to 60 minutes.
Five minutes before taking the batter out, preheat the oven to 350°. Melt the remaining two tablespoons of butter and using a pastry brush grease well the madeleines pan.
Take the batter out of the fridge and dump about one tablespoon of it in the center of each scalloped well, do not spread. Place in oven and bake for 10 to 12 minutes, until the top is golden yellow. Cover and place in the fridge the remaining batter (unless you have two madeleines pans to bake all the batter at once). When the first batch is done, remove each cake from the pan by carefully lifting through the edges with a small spatula or fork and place on a wire rack. Repeat the process of greasing the pan and bake the second batch. When the madeleines are cooled down drizzle the hibiscus glaze.
To make the glaze: In a small saucepan bring water to a boil. Retire form heat and add the hibiscus flowers. Let them soak for a few minutes, until the water has a deep pink color. Remove the flowers from water.
Place a sieve over a medium bowl and sift the sugar on it.
Start by adding ¼ cup of the hibiscus tea and using a hand whisk mix well. Add more tea and mix again, until you have a sheer runny glaze with just a hint of pink.
Place the madeleines over a cooling rack and using a spoon drizzle the glaze on each madeleine on the scalloped side. If you want you may drizzle them a second time. Let them dry completely before storing in an airtight container.