Lemon Tart with Rosemary Infused Chocolate Crust
What a wonderful year! As I'm ready to say goodbye to this one, I can't help but being reminiscent of the road I just walked. There were unfinished projects and unrealized goals, but also new learnings, the discovery of things I didn't know were there and unexpected doors waiting for me to open them.
It's always kind of funny how this time of the year gives us permission to decide to start over, to get new goals and embrace new adventures without any guilt or fear. It's a time where we are up to everything and anything. And if I can wish you something for next year, besides health, happiness and good food, it's to keep up that feeling and embrace it no matter the month of the year. Everyday could be the start of a New Year.
For me, I'm aiming for translating my joy of cooking more and more through my pictures and recipes. So many ones that I had share with you and still I think I haven't truly share how I know your cooking journey could be a joyful one too. That's why I've been more straightforward in my blog posts, creating more short recipes of foods that you can incorporate to your own favorite dishes and the concept of the mini videos in my Instagram stories. What else would you like to see? I'm all ears my darlings! This platform is yours!
To start the wonderful year that will come, I wanted to create something vibrant and bright, like the way I'm seeing the next chapter in my journey. Lemon and chocolate is such and unexpected yet delicate and delicious combination that I can tell you it's the brighter way to start any adventure. The tart is pretty lemony I have to admit, but the grassy subtle note of the rosemary and the robust note of the chocolate really balance things out. I promise! It's the perfect dessert to any New Year's lunch. New Year's being whatever the day you wanna make it!
A very happy New Year dear friends!
Recipe Notes:
1. If you have made my graham cracker crust before, you will probably notice that I used here more butter than usual. The reason is because for this recipe we will be clarifying it by passing it through a sieve, so it will reduce its volume.
2. For this recipe I used unsweetened dark cocoa powder but you may use regular unsweetened cocoa powder as well.
3. I will highly recommend using a non-stick pan. I used a fluted pan but you may use a pie dish or springform pan. Nevertheless, always remember that this kind of crust is very delicate and would crumble if you handle it too much. The best idea, if using a fluted of springform pan, is to remove the outer ring and serve on the bottom base over a plate.
4. This tart is really lemony. I used a cup of lemon juice but if you prefer something not as citrusy use just ¾ cup of juice or add 2 to 3 tablespoons of full fat coconut milk at room temperature just when you retire the curd form the heat and before adding the pieces of butter.
5. The candied lemons are completely optional but they sure make a beautiful decoration.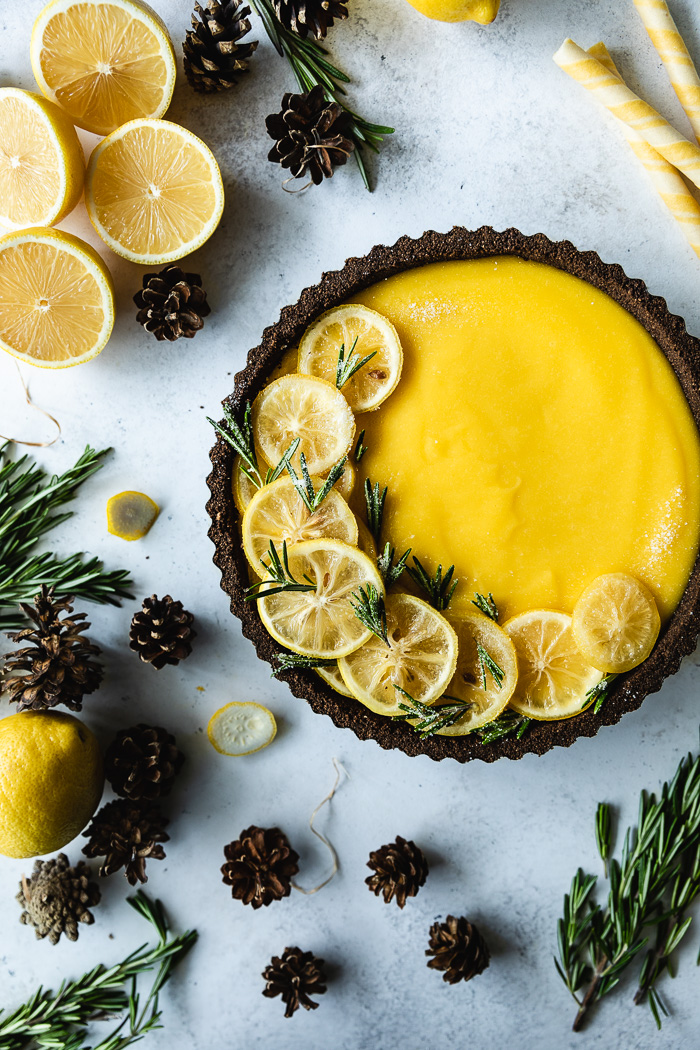 Lemon Tart with Rosemary Infused Chocolate Crust
Rosemary Infused Chocolate Crust

Butter – 12 TBSP
Rosemary sprigs – 4
Fine sea salt – pinch
Graham crackers – 16 whole crackers
Unsweetened cocoa powder (regular or dark) – 2 TBSP
Raw sugar - 3 TBSP

Lemon Filling

Whole organic eggs – 4
Egg yolks – 4
Raw sugar – 1 ½ cup
Freshly squeezed lemon juice – ¾ to 1 cup
Butter, cubed – 1 cup (2 sticks)

Candies Lemons

Lemon slices, from already washed and dried lemons – 10 to 12 thin slices (see notes)
Water – 1 cups
Raw sugar – ¾ cup
To make the crust: Spray the pan with a bit of baking spray (see notes). Preheat oven to 350°.
In a small saucepan melt the butter with the rosemary sprigs and the salt over low heat. As soon as the butter sizzles, retire from heat and shake a bit the saucepan for a few seconds. Return to heat and let it simmer for a few second, then repeating the process of removing from heat and shaking the pan, and returning to heat a few more times, until the butter is fragrant with the rosemary. Remove the rosemary sprigs and pass the butter through a sieve to remove any loose leaves. Set aside.
Place the cookie pieces, cocoa powder and sugar in the bowl of a food processor already attached to the base. Pulse two to three times to integrate everything and make the crumbs smaller. Start running the food processor again and pour in the melted butter, just until the crumbs are very fine and compact, about 10 to 15 seconds. If there are still big crumbs of crackers, integrate the crumbs stuck to the wall of the bowl and pulse a couple of second more. The crumbs will appear dry but they are ok. Transfer the content to the baking pan you will be using. Press onto the bottom and up to the sides, until the crumbs are evenly distributed and you have reach the edges of the pan with them. You may use a bottom-flat small measuring cup or utensil to help yourself press down and distribute the crumbs. Bake for 7 minutes, until the crust has browned and feels firm to the touch. Place it in the fridge to cool down.
To make the filling: In a medium glass bowl whisk the eggs with the sugar and lemon juice. Fill a large skillet with water until half thru. Place the bowl on the skillet and bring to a simmer over medium low heat. Keep whisking until the sugar is dissolved and the mixture starts to heat. Continue moving with a wooden spoon. Move frequently, until the mixture thickens, about 7 minutes but it could take a bit longer. You are looking for a mixture that covers the back of a wooden spoon and when you run a finger through it the mixture will leave a clear pass. Retire from heat and immediately pass the mixture through a sieve. Start adding the butter, a few cubes at a time and mix until almost melted before adding the next cubes. Mix until all the butter is melted and then continue mixing for a couple of minutes more to make the curd more airy and light. Pour over chocolate shell and chill for 6 to 8 hours or preferably overnight.
To make the candied lemons: In a medium or large skillet over medium heat combine water with sugar and mix just until sugar dissolves. Stop moving after the sugar has dissolved. Bring water to a boil and submerge the lemon slices. Cook for 15 to 20 minutes. Flip the lemons and cook for 10 to 15 minutes more, being cautions that the sugar doesn't burn. Using cooking thongs, retire each lemon slice and place over a rack or parchment paper. Wait a few minutes to allow the lemon slices to cool down a bit and sprinkle each lemon slice with sugar if desired. Let them cool down and dry completely in a cool dry space or in the fridge. Place the candied lemons over the tart for decoration.