Marinated Spinach Salad with Orange & Mustard Dressing
Green Goddess
Everyone around you will be GREEEEN of envy when they know how much deliciousness you've been having with this marinated spinach salad that is also super easy and fast to make.
In recent days my body has been having a shift. I've been dizzy and weak and feeling all kinds of strange things. Thankfully, every possible lab or study has returned negative, which only means I could be going crazy or that my body is in need of some adjustments because I'm already in my 40's. So the first possibility it is…
Seriously though, I have learned to know my system. For some reason it has a very low tolerance for when I go a bit crazy outside my balanced lifestyle. Then, all the symptoms without explanation start to make an appearance and I know it's time to get back on track.
An area I knew I needed to conquer is having power greens as a main dish. I have always used them as sides or fixings for other foods but truth be told, I have never given them a chance to shine on their own light. That was until I started to experiment with this idea of marinating them, especially spinach. If you haven't heard, marinating spinach is a technique where you coat the greens with some oil or dressing so that its particular bitter taste fades and its bite is more pleasant.
I have to say it's a big game changer. The first time I was about to eat my first solo spinach salad as my main meal I was a bit nervous, visualizing myself saying "nope…" after having the first bite and grilling a grilled cheese for dinner instead. But it was delicious!!! Soft but still crunchy, as a salad should be!
I love this particular recipe I created because the dressing is kind of sweet and sour thanks to the orange marmalade and the mustard, so the flavor of the spinach is completely on a second plane. Burrata, pine nuts and blueberries only make things better for this wonderful summer salad! We ate this with roasted halibut and it was the perfect summer lunch!
Recipe notes:
1. You should marinate the spinach first and then add the dressing when ready to serve. I marinated mine for two hours, but it will be already softer after the first 30 minutes.
2. The dressing on its own is on the acidic side because the spinach already has plenty of oil. Make a double batch of dressing to keep extra in the fridge and adjust the taste with olive oil if desired to dress another salad or to roast vegetables or fish.
3. If you don't have burrata just use pieces of fresh mozzarella.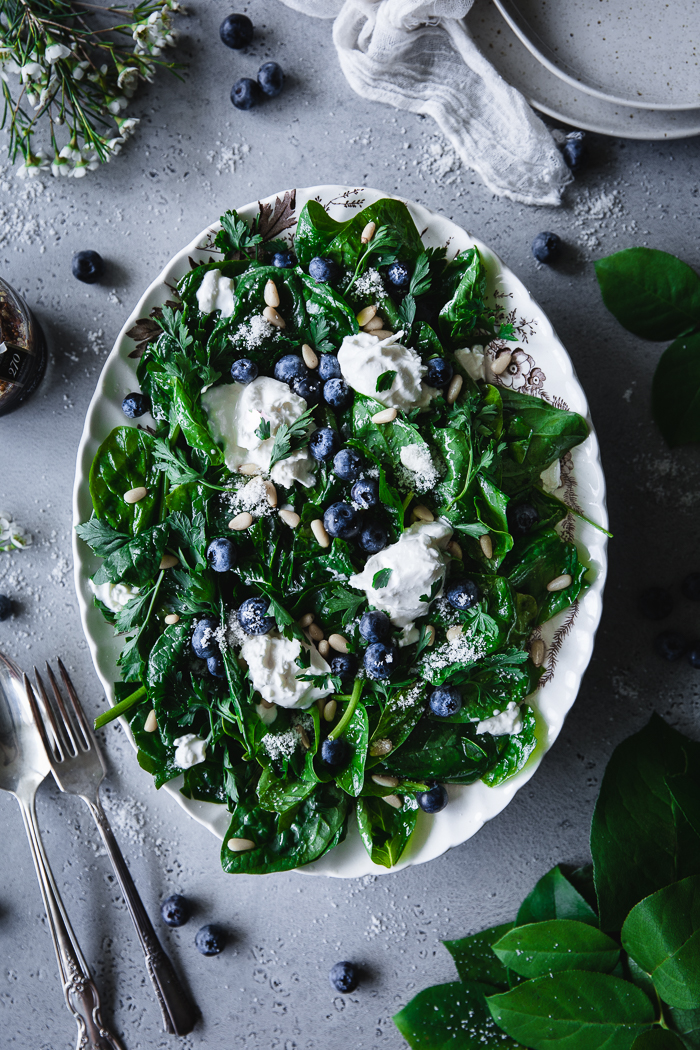 Marinated Spinach Salad with Orange & Mustard Dressing
Salad

Fresh spinach – 4 to 5 cups
Olive oil – ¼ cup
Burrata – ½ cup
Fresh flat leaf parsley, roughly chopped – ½ cup
Fresh blueberries – ½ cup
Pine nuts – 2 TBSP
Pinch of sea salt

Dressing

Orange marmalade – 1 TBSP
Grainy Dijon mustard – 1 Tsp
Fine Sea salt – ¼ Tsp
White wine vinegar – 2 TBSP
Olive oil – 3 TBSP
Sprinkle of fresh ground black pepper
French Grey Sea Salt granules for serving (optional)
Marinate the salad: In a medium bowl mix the spinach with the olive oil and the pinch of salt. Let it marinate for 40 minutes up to two hours.
Prepare the dressing: In a small bowl mix all the ingredients. Using a hand whisk mix vigorously until all the ingredients are emulsified (you should see that all the ingredients come together homogeneously, with no separation apparent).
When ready to prepare, add the rest of the salad ingredients to the spinach and combine. Pour the dressing in and mix until everything is well coated. Sprinkle with French Grey Sea Salt granules before serving