Mint Matcha Madeleines
(Mini) Cakes With a Purpose
After a bad baking cycle I finally nailed it! I made these pretty cutie madeleines that ended up just perfect. I was so happy when I finished up this shooting, like everything was perfect again with the universe. Isn't that the best feeling?? The air is lighter and you feel like walking in air. At least that's how I experience that sensation of having the universe on my side.
When thinking on ways to break that bad cycle I couldn't come up with a better treat than madeleines petite cakes. They are so simple to make and always end up being pretty, delicate and oh so fancy!
Madeleines are the kind of confection that you can't really go around changing the recipe. This applies to everything in baking but it's particularly true in here. Is not that forgiving as other baked goods could be. Each ingredient in their particular amount is contributing to the particular texture and flavor of madelelines. They are dense but soft, golden on the surface and have crispy edges all around.
The base of these cakes is a genoise batter. Ahhh, fantastic! And what is that exactly?? I though you might ask. Genoise is a batter that is leavened naturally with eggs whipped in high speed and yields a sponge cake. For this reason its super important that you handle the batter very gentle through all the steps, including sifting the flour and using room temperature eggs. Technically you should mix and heat the eggs and sugar over simmering water and then beat that mixture, as you will do if making Swiss meringue. But I prefer to make things a bit easier and work with room temperature eggs and add just a bit of baking powder to make sure everything rise properly. I know, I know, some would say that technically these are not madeleines, but it's the price I have to pay to make some steps easier for us!
Now, the whole purpose of madeleines is to dunk them in tea, they are sponge cakes after all, remember? Since my tea afternoon parties are officially over, it occurred to me to dunk them in a tea glaze. A matcha tea glaze to be more specific and, to tell you the truth, I think it's the best thing I could ever done to this madeleine cakes. The bitterness of the tea creates an interesting contrast with the sweetness of the cake and the floral notes of the orange zest. Oh, I forgot to mention, another traditional ingredient is lemon zest, but I swapped for orange and it was so good!
So please, don't get intimidated by anything you might have read about madeleines. They are really easy, fast and you can make them with a few everyday ingredients. I just suggest that you read the recipe and recipe notes beforehand and have everything ready to use, or in mise-en-place if we are going to start getting fancy and get our pinkys up to eat these pretty madeleine cakes.
Recipe notes:
1. Make sure you are working with room temperature eggs. I know waiting for this could be annoying but a way to speed up the process is to submerge the eggs in a bowl with hot tap water for about 10 minutes.
2. Sift flour first and then measure the necessary amount.
3. When beating the eggs and sugar you need to do it in high speed. I used my stand up mixer but you can use a hand electric mixer as well. The important thing is to beat them in high speed and for up to 8 whole minutes.
4. Remember to fold gently the batter. You don't want to deflate it in the process.
5. Is important to bring to the oven chilled batter so if you only have one madeleine pan as I do, immediately chill the remaining batter until ready to use.
6. Brush the pan liberally with melted butter.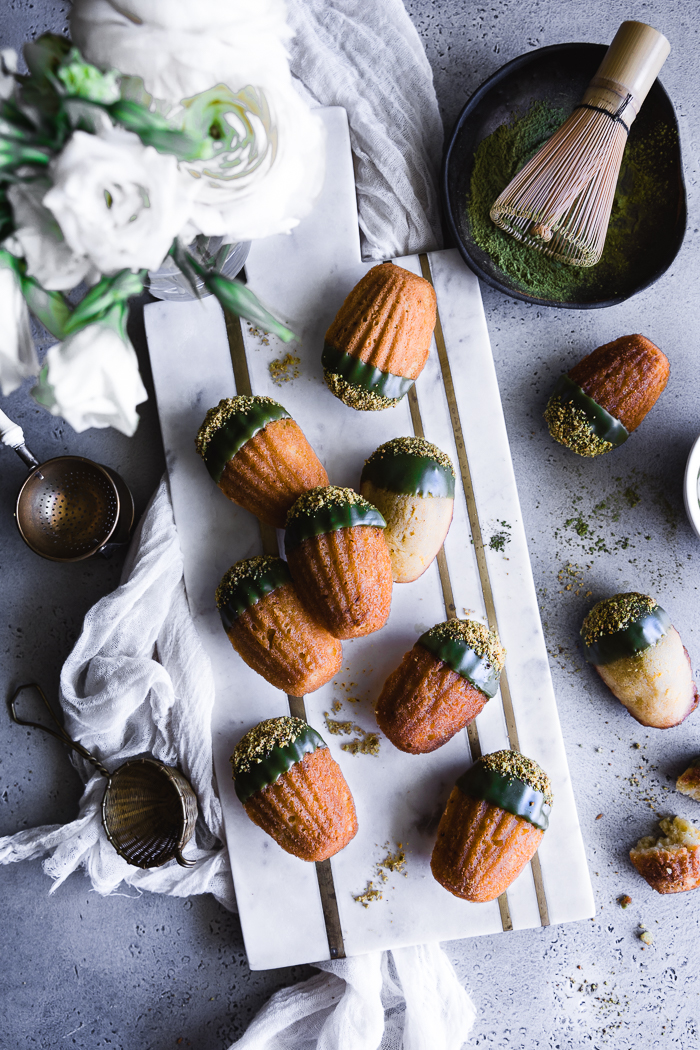 Madeleine Cakes

Organic grass feed unsalted butter – ½ cup (1 stick) + 2 TBSP for the pan
Organic free range eggs, at room temperature – 2
Raw sugar – ½ cup
Orange or lemon zest – 2 Tsp
Pure vanilla extract – 1 Tsp
Mint extract – 1 Tsp
Unbleached all purpose flour, sifted – 1 cup
Baking powder – ½ Tsp
Fine sea salt - ⅛ Tsp

Matcha Glaze

Confectioner's sugar, sifted – 1 cup
Matcha powder – 1 TBSP
Almond milk or water – 1 to 2 TBSP, depending on consistency
Pinch of salt
About 18 madeleine cakes
Total time - 1 to 1 1/2 hours Active time - 15 minutes Baking time - 10 minutes
Equipment - madeleine pan, stand up or electric mixer, small spatula

To make the madeleines: In a small saucepan melt the butter, then retire from heat and let it cool while you prepare the other ingredients.
In a stand up mixer with the whisk attachment or using a handheld electric mixer with the whisk attached beat the eggs and sugar in high speed for about 8 minutes, until the mixture is thick and looks pale yellow and when you lift the beaters the batter form ribbons when returning to the bowl. Beat in the orange zest and vanilla extract just until combined, about 20 seconds.
Whisk sifted flour, baking powder and salt in another bowl. Using a wooden spoon or a small spatula gently fold half of the flour mixture into the egg mixture. When incorporated fold in the remaining half of the flour mixture.
Stir about ¼ of the batter into the melted butter and mix until everything is well incorporated, it will take a bit more than 1 minute. Stir the remaining batter and mix well until everything is incorporated and the batter looks thick and shiny, about two extra minutes. Cover the batter and chill in the fridge between 30 to 60 minutes.
Five minute before taking the batter out, preheat the oven to 350°. Melt the remaining two tablespoons of butter and using a pastry brush grease well the madeleines pan.
Take out batter from fridge and dump about one tablespoon of it in the center of each scalloped well, do not spread. Place in oven and bake for 10 to 12 minutes, until the top is golden yellow. Cover and place in the fridge the remaining batter (unless you have two madeleines pan to bake all the batter at once). When the first batch its done, remove each cake from the pan by carefully lifting through the edges with a small spatula or fork and place on a wire rack. Repeat the process from greasing the pan and bake the second batch. Dust some powdered sugar or glace the tip of each cake (recipe for matcha glace follows).
To make the matcha glaze: In a bowl whisk sugar and matcha powder. Start by adding 1 tablespoon of milk and, depending on consistency, add a bit more. Sprinkle the salt and mix once more, until the mixture has no lumps.
Dip the tip of the madeleines and hold until excess drips off, twisting your hand to catch any dripping before placing on top of a wire rack or parchment paper. Let the glaze set for several minutes before transferring to a tray or plate.