Olive Oil & Citrus Cake
I hope this cake is a glimpse of what this new year will be; strong, balanced, simple, memorable and utterly delicious.
For me the use of strong olive oil in cakes is something kind of poetic. I always imagine them on a rustic dark wood table under a gazebo in the middle of an olive tree field. Around are glasses of wine and some leftovers of a good olive oil roasted chicken. It's that kind of thing that doesn't need much, it shine with less.
That's why I wanted to keep this recipe very simple. An ode to a wonderful olive oil but also a projection of what I want for me this year: quality of time, quality of efforts and quality of ingredients that allow me to live a simpler and uncomplicated life. And yes, I'm visualizing myself with a long white gauzy dress under that gazebo with a glass of a chilled sweet wine. Not sure how my real life will compare to my goals but my daydreams would definitely will.
To make a fruity contrast I decided to pair the oil with citrus. In olive oil cakes you don't actually taste olive oil. What you actually get is some earthy floral deep notes that the citrus flavors lighten up perfectly. I liked the idea to poached some slices in a Grand Marnier simple syrup to candied them so they would not be that bitter if you take a bite of them when eating this delicious cake.
Recipe notes:
1. For this recipe I used a good variety of citrus. You may use your favorite ones or just pick one and make the cake about them.
2. For the zest needed you can play and mix your citrus if using a variety of them.
3. I highly recommend topping the cake with the citrus in a single layer to make sure the cake will cook evenly. Please, don't be ambitious like me and try to make different layers because your cake will end up with too much liquid on top and will not bake properly.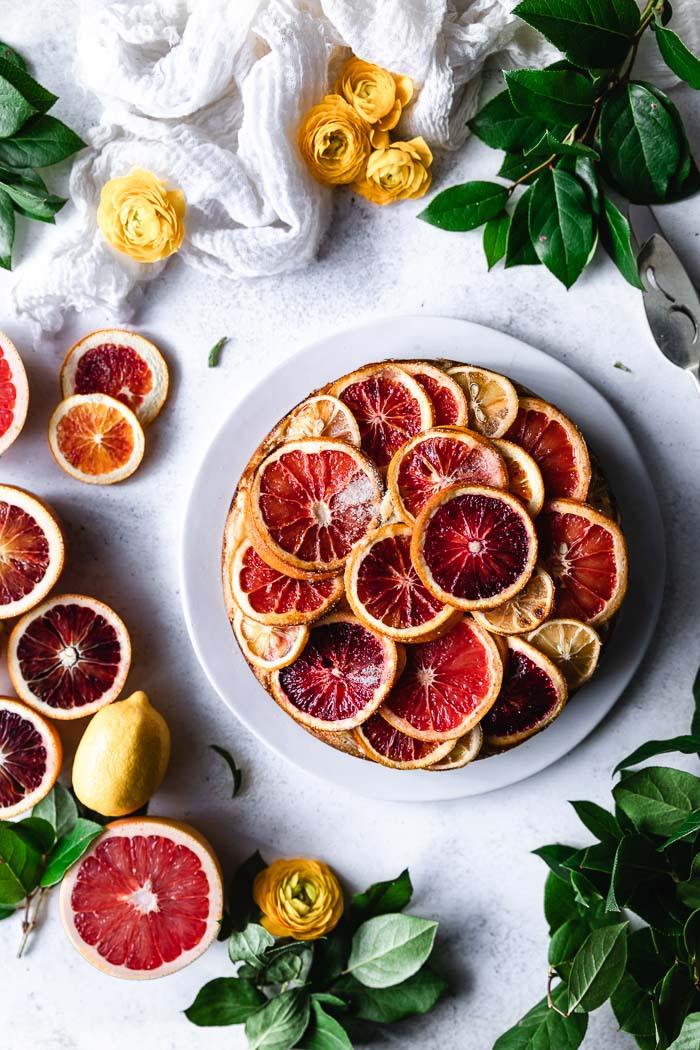 Candied Citrus

Grand Marnier – ½ cup
Raw sugar – 1 ¼ cup
¼" thick slices of your favorite citrus fruits, washed and dried

Olive oil cake

Unbleached all purpose flour – 2 ¾ cups
Baking powder – 1 Tsp
Organic eggs, at room temperature – 3
Raw sugar – 1 ¾ cup
Pure vanilla extract – 1 Tsp
Freshly squeezed lemon juice – ¼ cup
Mix of citrus zest – 2 TBSP (see notes)
Fine sea salt – ½ Tsp
Organic Greek lemon yogurt – 4 oz
Extra virgin olive oil – ⅔ cup

Red Blood Orange Glaze

Confectioners sugar, sifted - 1 cup
Freshly squeezed red blood orange juice - 2 to 3 TBSP
To make the candied citrus: In a large skillet combine Grand Marnier with sugar and mix well. Heat the skillet in medium heat, mixing the liquid just until the sugar starts to dissolve. Do no mix after this point. When the liquid start simmering, submerge the citrus slices and cook for about 10 minutes. Flip them over and cook for 10 minutes more, observing that the sugar is not burning. Using a cooking thong, remove each slice and place it on a cooling rack or parchment paper. Let them cool down before topping the cake.
To make the cake: Preheat oven to 350°. Spray a springform pan with baking spray or grease with butter. You may use a piece of parchment paper on bottom if you can to take extra caution to prevent cake from sticking to the pan.
In a medium bowl combine flour and baking powder with a hand whisk.
Place the rest of the ingredients except for the olive oil in the bowl of a food processor already attached to its base. Mix for 10 seconds, until everything is well combine and the liquid looks homogeneous. With the processor running, start to pour the olive oil in a slowly but steady stream. Mix for an extra 10 seconds to make sure everything is well incorporated.
Make a well in the center of the flour and baking powder mixture. Pour about half of the wet ingredients and gently start mixing with the flour. When most of it its incorporated pour the remaining liquid and gently finish mixing it up, until the flour looks completely wet and only small lumps are visible. Transfer batter into prepared pan. Cover the surface with the candied citrus slices in a single layer (see notes). Bake for 35 minutes. Insert a toothpick at different points of the cake to make sure it comes out clean. If not, rotate the pan and bake for 5 minutes.
Take out of the oven and sprinkle some raw sugar on top. Carefully remove from pan and let it cool completely before serving.

To make the glaze: Place confectioners sugar in a medium bowl. Mix with the red blood orange juice. Start with two tablespoons and add more to make it runnier. This is a glaze that hardens when it dries. Mix in a bit of any kind of milk for a creamier consistency.