White Wine Poached Peaches & Cream Galette
what's the difference between a galette and a crostata anyway
I made this peach galette inspired by one of my favorite galettes; my mango cream cheese crostata.
So first you call it galette and then you call it crostata Dev? What's going on???
Ok, let me clear this out for you! I'm not going crazy. And neither are you. Galette and crostatas are both a free form tart. The difference lies in the origin of the word. Galette is how this type of tart is known in France and crostata is the given name in Italy. That's why you probably have seen that the two words are used interchangeably. The more you know…
As I was saying, after seeing how much you guys loved my Mango Cream Cheese Crostata (because what's not to love about sweetened cream cheese and fresh fruits in a buttery crust) I decided to recreate this version with peaches. But for this version I decided to poached the peaches in some wine and elderflower cordial that I had around just to make them tender and enhance that sweet and sour notes of this delicious summer fruit. This part is optional. You absolutely can assemble the galette with fresh raw peaches.
No matter how you want to call it, you should bake this gem soon because fresh peaches are at its absolute best right now. Some ice cream, whipped cream or sweetened crème fraîche will take this to peaches 'n crème heaven.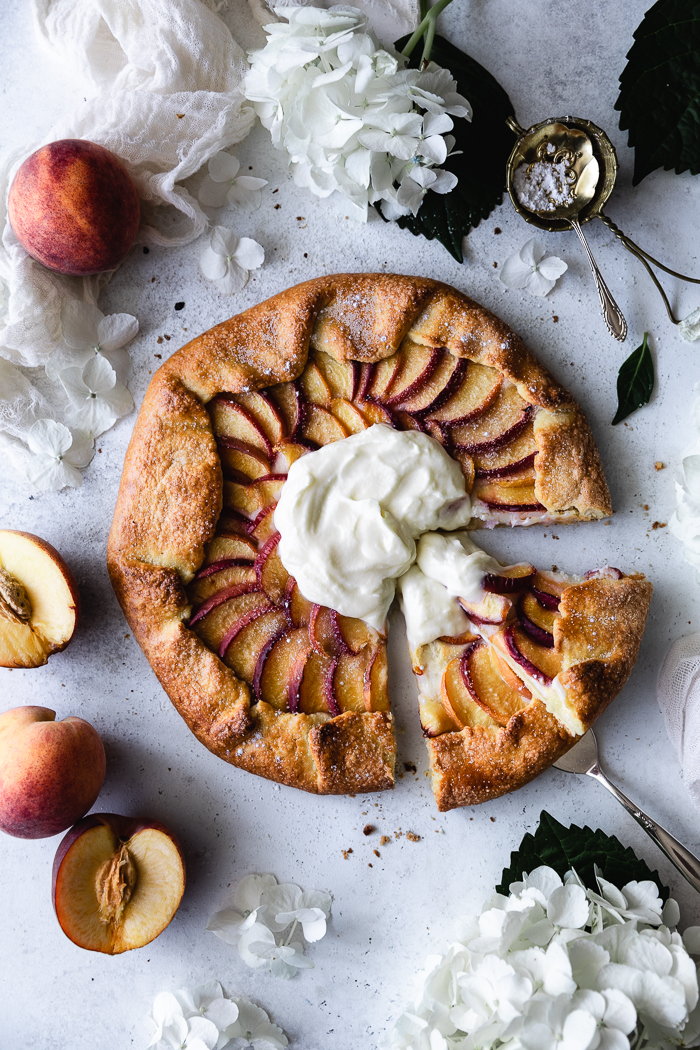 White Wine Poached Peaches & Cream Galette
White Wine Poached Peaches
Water – 1 ½ cups
White wine – 1 ½ cups
Raw sugar – ¾ cup
Vanilla extract – 1 TBSP
Elderflower cordial syrup (optional) – ¼ cup
Peaches – 5 to 6 medium, thinly sliced
For the crust and the sweetened cream cheese, follow my Mango Cream Cheese crostata recipe.
In a large deep skillet mix all the ingredients except for the peaches. Heat over medium high heat and cook just until the peaches are tender but are not breaking. Remove from heat and with a slotted cooking spoon or take the peaches out and place them over a plate or tray.
Finish with the original recipe steps. Serve with ice cream or whipped cream if desire. Or leave it like that for a perfect warm breakfast!