Plum Ricotta Cake
I've been wanting to share the recipe for this super soft ricotta plum cake since last year. When I first made it up, I was so happy with how it turned out; super moist, super soft, super easy to make and really delicious thanks to those tart juices that created a wonderful contrast with the sweetness of the cake. But after I made that cake, an impertinent hand took a piece of it right away. And then anther one. And then I was eating from the cake as well. I assume you can see how this ended up. Needless to say, the cake never made it to the camera.
When plum season finally arrived a few weeks ago, this was the only recipe I wanted to make to kick it off on the blog. It is a gem of a cake. The ricotta cheese gives to it a fine crumb that is very soft and pillowy. And the plums barely caramelized during baking, so they end up kind of chewy and sticky on the outside but still with a sweet and sour note once you bite them.
Because the cake bakes with fruit on top that layer it's going to end up very moist, which is a nice contrast to the other textures of this delicious plum cake. And it's so easy to make it's going to be a wonderful addition to your fall baking repertoire. It's the perfect ricotta plum cake for weekend breakfasts or weeknight late snack! You would be making it on repeat!
Recipe notes:
1. For this recipe you need butter that is barely soft. As soon as you can press it with your finger, it's ready to use. DO NOT let it come to soft or warm.
2. It is super important that you use very firm plums. If they are soft they are going to release too much moisture ruining your cake. Arrange them liberally as I did or as your favorite shape, but make sure there's only one layer of plums.
3. When you test for doneness make sure your toothpick comes out clean after you insert it through the middle of the cake, but remember that the very top of the cake will look a bit raw. It will end up baking after you take it out of the oven and what you will se is a very gooey top, which is probably the best part of the cake.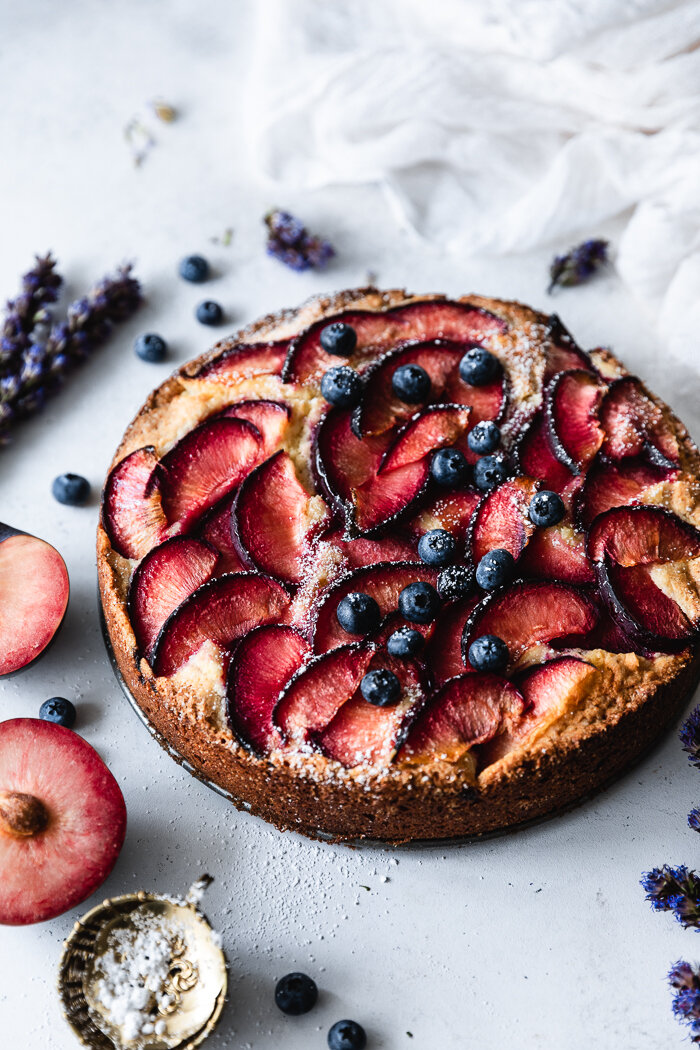 Plums, medium to large, very firm and sliced in ⅛" thick wedges - 2
Unbleached organic flour – 2 cups
Aluminum-free baking powder – 1 Tsp
Fine sea salt – ¼ Tsp
Grass-fed butter, barely softened (see notes) – 8 TBSP (1 stick)
Raw sugar – 1 ½ cup + 1 TBSP for the plums
Organic free-range eggs, at room temperature – 2
Vanilla Paste (or you can substitute with extract) – 1 TBSP
Vegetable oil – ¼ cup
Grass-fed ricotta cheese – ¾ cup
For a 9" springform pan
Total time - 1 hour to 1 hour and 15 minutes Active Time - 10 minutes
Equipment - 9" Springform Pan, Stand Mixer or Electric Hand Held Mixer
To make the plum ricotta cake: Preheat oven 350°. Spray with plenty of baking spray or grease with plenty of butter a 9" springform baking pan.
Cut your two plums in wedges and place them on top of a paper towel in one layer.
In a medium bowl mix the flour, baking powder and salt with a hand whisk.
Beat butter in slowest speed for about 30 seconds either in the bowl of a stand mixer with the paddle attachment or in a large bowl using a hand held electric mixer with the beaters attached. You just want to cream it a little bit. Add the 1½ cup of the sugar and beat for no more than 1 minute, until the butter and sugar form a thick grainy paste. Add eggs, one at a time. Add vanilla, oil and ricotta cheese and mix until just combined. Start adding the flour mixture, about half cup at a time but without waiting too much time between additions. As soon as you add the last of the flour stop the mixer and finish mixing it very gently with a large rubber spatula or wooden spoon. Mix until there are no flour streaks visible. Be sure to scrap the sides and bottom of the bowl.
Transfer batter to prepare pan. Arrange plums on top as evenly as possible (see notes). Sprinkle the remaining tablespoon of sugar on top of the plums. Transfer pan to oven and bake for 45 to 55 minutes, until a toothpick comes out clean after you inserted it through the center of the cake. Remember that the area right beneath the plum could be a bit wet and gooey, but it doesn't mean the batter is raw.
Retire form oven and let it cool down a few minutes before removing form springform pan. Store in a cool area and it will last several days.