Raspberry Heart Shaped Doughnuts
Shape of Love
If something screams love, it's definitely super soft and pillowy heart shaped doughnuts. You can have anything else for breakfast, but you decide to make the extra effort and make one of the best inventions with dough. And then you could pick the first rounded cutter you could find, and yet you decide to pick a cute heart shaped cutter to share the love.
That's the special thing about pastry. You have to eat so you have to cook. But you don't have to make sweets. That's something you do to share beautiful emotions and feelings with the people around you. It's a perfect example of a labor of love.
I've wanting to make heart shaped doughnuts since last year so I was impatiently waiting for Valentine's Day just for this. They are too cute to handle! We ate them anyway though.
This heart shaped doughnuts would go beautifully on a table with friends for a Valentine's Day brunch or for a cozy Valentine's Day breakfast in bed. You could leave them plain or fill them with so many flavors like fruit spreads, cream or chocolate. I wanted something fresh so I went for this bright raspberry filling. You can use store bought jelly but guys, this is so easy to make and the taste is heart piercing!
In terms of the recipe, the dough is the same of my Yeasted Doughnut Rolls, the only different thing here is the filling. As with any bread or yeasted dough recipe, it's always important to read it first so you can understand what you have to do and how you can prepare. This step will help you so much visualizing the process and will make everything much easier because you will be prepared. Hope you include these on your Valentine's Day food repertoire; you'll not be disappointed!
These were exactly the heart cookie cutters I used. As you can see the tip at the bottom is more defined than other cutters.
Recipe notes:
1. For this recipe is super important that all the ingredients are at room temperature. Remember that yeast is very happy and thrives in a warm environment.
2. When resting the dough to rise, I look for the warmest corner in the house, which is a nightstand in our bedroom. Besides topping it with a kitchen towel, I wrap it with a light blanket and a clean t-shirt, again, to keep it nice and warm. Don't wrap it up too tight though so it breathes.
3. When stretching the dough, do not press the rolling pin too hard. Gentle strokes from the center out are good enough to stretch it to a ¼" thickness. Don't stretch it too thin either.
4. If filling your doughnuts, I strongly recommend that you get a filling injector or cake decorating tool. I used a regular decorating bag with a small tip and was a real pain because the filling let the tip swim back to the bag.
5. You can use your favorite berry fro this recipe. If using frozen berries, heat them and wait until they are thawed and start to break and then continue with the process.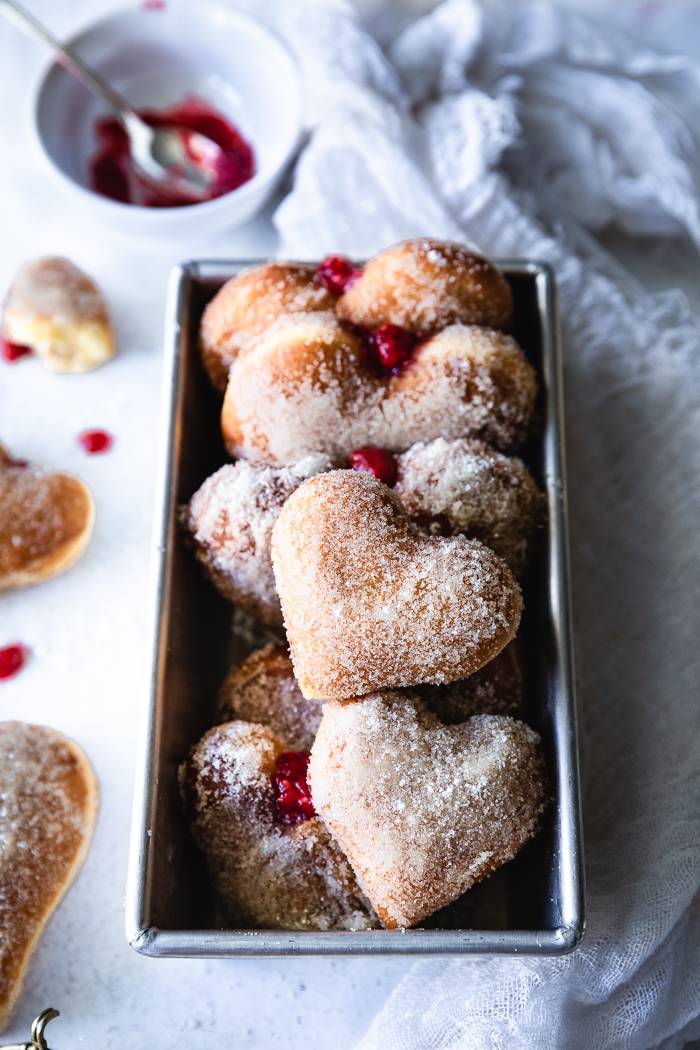 Raspberry Heart Shaped Doughnuts
Heart Shaped Doughnuts
Coconut milk, lukewarm - ⅓
Instant yeast – 1 envelop
Eggs, at room temperature – 5
Unbleached organic all purpose flour – 3 ½ cups
Raw sugar - ⅓ cup + 2 cups for coating all the doughnuts
Vanilla extract – ½ to 1 Tsp (see notes)
Fine sea salt – 1 Tsp
Butter, at room temperature and in pieces – 12 TBSP (6 ounces)
Vegetable or grape seed oil for frying

Raspberry Filling

Raspberries, fresh or frozen (see notes) – 3 cups
Raw sugar – ¾ cups
Freshly squeezed lemon juice – splash of half lemon
Unbleached flour – 2 TBSP

About 10 big doughnuts, 12 small doughnuts plus extra dough for minis
Total time - 3 hours plus chilling time overnight Active time - 30 minutes to prepare the dough, 30 minutes during morning to cut the doughnuts and about 40 minutes to fry and fill them.
Equipment - Stand mixer with the hook attachment, deep pot for frying, large trays and plates, decorating bag with small tip or filler dispenser to fill the doughnuts.
To make the doughnuts: In the bowl of a standup mixer with the hook attached pour the coconut milk and sprinkle the yeast on top. Allow the yeast to dissolve for 2 minutes.
In a small bowl, slightly beat the eggs. Dump the flour in the mixer bowl and knead in slow speed (#2 in the Kitchen Aid) just until smooth. Add the eggs in a stream and knead just until they seemed incorporated. Add the sugar, vanilla and salt and knead for 15 minutes. Don't worry if the dough seems a bit wet, it would come together eventually. After the fifteen minutes of kneading add the butter by pieces. If you see that the pieces are sticking to the walls of the bowl, stop de mixer and bring the butter to the bottom of the bowl as much as you can, then continue kneading. Don't do this more than two times so you don't mess the kneading process and don't worry if some pieces of butter come up again through the walls of the bowl, they will come together eventually. Knead for an extra 10 to 15 minutes, until the dough is completely smooth.
Cover the bowl with a kitchen towel and wrap it up with some extra kitchen towels or blanket (see notes) because it like to be warm. Place the bowl in a warm corner to rise double its size, about 1 ½ hours. After that, cover with a plastic paper to seal the air out and place the bowl in the fridge overnight.
(UPDATE: Alternatively, if not doing the dough overnight, just go directly to the next step of rolling and cutting the dough and continue with the whole process.)
The next morning, take out the dough and let is loose the chill for several minutes. Dust plenty of flour on a clean flat surface and turn the dough on it as well as on the rolling pin and your hands. Using the rolling pin stretch as far as you can go until the dough is about ¼" thick, taking care of not putting too much pressure toward it and always starting from the center out (see notes). Using your heart shaped or regular doughnut or cookie cutter, cut as much doughnuts as you can. Carefully pick each up and place them on a plate or tray with parchment paper or silicon mat. Cover again with a couple of kitchen towels, blankets or cloths and let rise for 1 to 1 ½ hour in a warm corner until they are puffed.
Prepare a big plate or tray with the remaining granulated sugar (I used granulated raw sugar).
Fill thru half with vegetable or grape seed oil a heavy bottomed pot or deep skillet. Heat the oil to 350° in medium heat (you may use a candy thermometer to check on the temperature). Drop 2 to 3 doughnuts into the hot oil, 4 to 5 for smaller pieces. Fry for 2 to 3 minutes, until most of each doughnut is floating. Using a rounded slotted spatula or a spider web spatula turn the doughnuts upside down a fry for an extra 2 to 3 minutes, until dark golden brown. If you feel the dough could still be raw on the inside, turn and fry for an extra minute and repeat on the other side. Take out of the oil and rest over kitchen paper towel to absorb excess of oil. If the doughnuts are burning to quickly, lower down the heat to medium low and continue cooking in that temperature for a while, until the oil temperature drops a bit. Repeat with the rest of the doughnuts.
While the doughnuts are still warm, place some on the tray and cover them well with sugar on both sides. You will have to start doing this while still other doughnuts are frying so you can make it with the doughnuts still warm. Place on another plate or their final serving plate.
Poke a small hole on the center top of the doughnut. Insert your decorating bag or filling injector filled with the raspberry jelly (recipe follows) on the doughnut and squeezed about one tablespoon of the jelly. Filled all your doughnuts and eat them all!
If any leftover doughnuts, store them in an airtight container or plastic bag. After the second day, store them in the fridge and heat a few seconds in the microwave before eating.
To make the raspberry filling: In a small saucepan combine all the ingredients except for the flour and bring to a gentle boil over medium heat. Cook for about 10 minutes. After that sprinkle the flour and move frequently. Keep cooking until you achieve a thick consistency, 2 to 3 minutes more. Remove from heat and keep moving for 30 seconds more. Let it cool completely or chilled in the fridge before filling the doughnuts.