Roasted Tomatoes and Balsamic Vinegar Onions Naan Bread Pizzas
Italian Little Helpers
When I think about my cooking journey, Italian cuisine is definitely there as my first love. I have always felt it's food magic at its best. The way this cuisine takes the simplest ingredients and creates some of the most delicious and decadent dishes by using just the freshest ingredients to me is mesmerizing. The first recipe I ever cooked by myself was a spaghetti Bolognese and that was at 11. We go way back!
You know this is the way I like to approach my recipes. That's why I was super excited when a brand no other than Bertolli invited me as a partner to share with you my friends some of their selection of organic, rustic and all natural sauces.
One of the first things I do when evaluating partnerships is to read the ingredients on the label. And I was so happy (and have to admit kind of relieved) when I read only fresh ingredients. I thought these are some sauces that can help lots of cooks out there by saving some time without sacrificing quality and good flavor. This is a good one for sure.
I'm starting by sharing their Rustic Three Cheese Sauce, which has a tomato base, chunks of onions, peppers and carrots and a blend of Asiago, Romano and Parmesan cheeses. These guys are having a party in that jar!! That's why I thought about Naan Bread Pizzas for this first recipe. Instead of using a flat Marinara, try this sauce with all those chunky bits of delicious things to give your pizza bites more texture and flavor.
And because no person in the universe likes soggy pizza crust, I'm sharing a tip that I do every time I make Naan Bread Pizzas: brush your bread with olive oil on both sides and bake them for 5 minutes before assembling your pizzas. This will never fail you and you will always end up with crusty golden delicious pizzetas.
We have this kind of pizzas for lunch and light dinners a lot! I hope you give it a try and have them in repeat. I used onions, tomatoes and prosciutto for these ones. What other toppings are you thinking on adding to yours?
Recipe notes:
1. The fixings here are for 4 naan bread pizzetas. Feel free to add a bit more or less as you go.
2. You may use your favorite tomato sauce of course, but I was really impressed with how well this Bertolli Rustic three cheese works in this recipe. It has chunks of vegetables that add a nice texture to each bite plus the sauce is not that runny, making it perfect to achieve a crusty bread.
3. If you are a salsa lover kind of human as I am go with 2 tablespoons of sauce per slice of bread. If you prefer a drier sturdier pizza use just one tablespoon per slice of bread.
4. Also with the balsamic vinegar, you may just drizzle the onions on one side to have just a subtle flavor of it.
5. There are two keys to always getting a crispy crusty bread when making naan bread pizzas; first is brushing the slices with olive oil on both slides and second baking over a rack so the hot air circulates around the pizzas. If you don't have a baking rack, bake the pizzas directly on a baking sheet and add a few minutes of baking.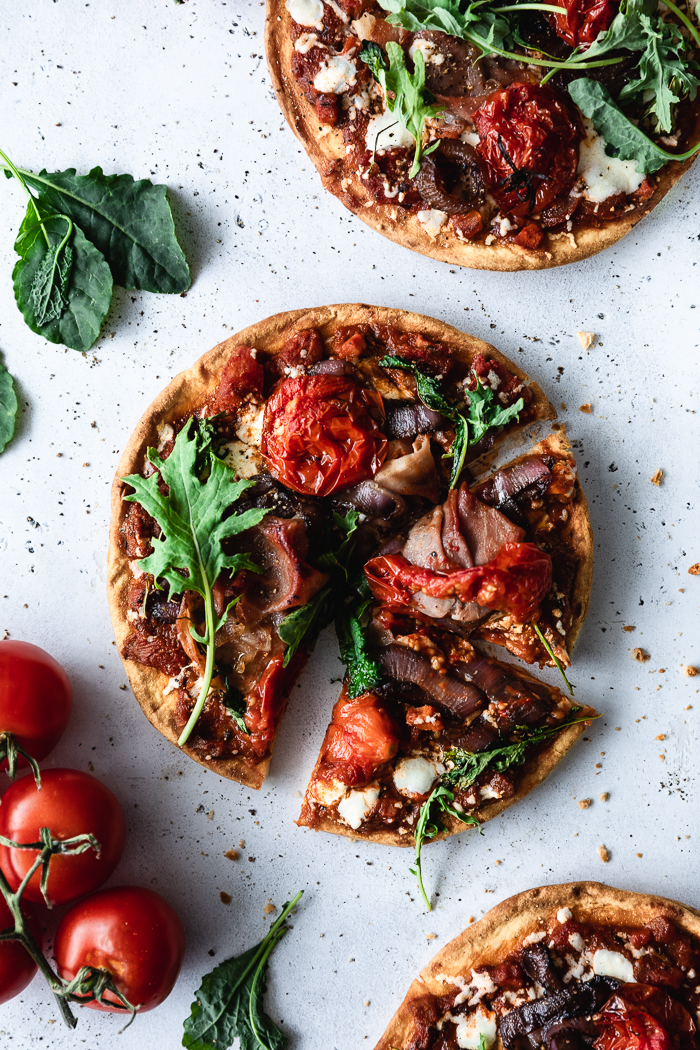 Roasted Tomatoes and Balsamic Vinegar Onions Naan Bread Pizzas
Red onion, sliced in ¼" thick slices – 1 large
Fine sea salt – about 1 Tsp, divided
Freshly ground black pepper – ½ Tsp, divided
Balsamic vinegar – 1 to 2 TBSP (see notes)
Campari, Roma or plum tomatoes – 12 Campari or 6 Roma or plum cut in half
Pinch of raw sugar
Naan bread – 4
Olive oil – 2 TBSP + 3 TBSP
Bertolli Rustic Three Cheese tomato sauce – ½ cup
Fresh mozzarella – 8 slices
Proscuitto slices – 8
Basil, kale or arugula leaves if desired
For 4 Naan bread pizzas
Total time - 55 minutes Active time - 10 minutes
Equipment - baking sheet, baking rack, pastry brush
Preheat oven to 425°.
Place the slices of onions in a baking sheet. Sprinkle a good pinch of salt and some of the pepper over the onions. Turn them over and sprinkle a bit of more salt and pepper. Drizzle about one tablespoon of the balsamic vinegar over the onions.
In a cast iron, oven proof pan or another baking sheet place the tomatoes and toss them with a couple of pinches of salt, a good sprinkle of pepper, pinch of sugar and 2 tablespoon of the olive oil.
Place onions in the middle rack of the oven and the tomatoes in the lower rack. Bake for 20 minutes. Turn the onions over and drizzle the extra tablespoon of balsamic vinegar if desired. Bake for 10 to 15 minutes more, until the onions have a deep purplish color and the edges are a bit charred and the skin of the tomatoes is a bit peeled. Retire from oven but let oven turned on.
Using a pastry brush (preferably a bristle one, not a silicon one) and with the remaining 3 tablespoons of olive oil brush each naan bread on each side. Place a baking rack over a baking sheet and place the slices of bread on it (see notes). If baking more than three or four you will need to bake them separately. Bake for 5 minutes. Retire from oven to assemble each pizza.
Spread about two tablespoons of the tomato sauce on one side of each bread. Sprinkle a bit of salt and pepper on top. Grate over one slice of mozzarella cheese and break into pieces a second slice and arrange through the bread. Arrange some of the onions, 2 to 3 tomato pieces and 2 slices of prosciutto over each pizza . Add some fresh leaves you are using on top. Bake for about 10 minutes, until border of the bread looks golden yellow and a bit burned and the cheese is melted. Toss some extra fresh leaves on top if desired. Serve immediately to enjoy that perfect pizza crunch!