Spiced Sponge Cake with Brown Butter
All About that Shape
Is that time of the year again when I bring back to life one of my favorite cake pans and create a cake recipe that's just to celebrate its particular shape; a honeycomb. A cake that will be moist and delicious on its own, without the need for syrups or heavy frostings, because it will be nonsense to cover that beautiful honeycomb shape. That's why I decided to make a warm sponge cake, which is incredibly moist and could last for days. And since I'm always looking for ways to incorporate some mighty anti-inflammatory spices in my foods so my daughter could have more of them, it was obvious to me that the moment to make the spiced cake of the season arrived, filled with warm notes of cinnamon, ginger, cardamom, all spice and cloves.
The mere though of this cake is so comforting for me. My mind creates a background scene where I have a cup of tea or hot chocolate in one hand, I'm eating cell by cell of this cake with the other and there's a throw blanket around my body and lots of tiny lights shining around from a Christmas tree. It's the possibilities of having something delicious that could transport my soul to a warm place of stillness that make this cake so enticing for me. That's why I wanted to leave this cake as naked as I could.
Sometimes when I'm shooting a recipe I sprinkle some powdered sugar on particular spots on the recipe I'm shooting that day, but as soon as I'm finished I sprinkle sugar over the whole thing as there's no tomorrow, no visible spots left. This cake is so delicious on its own it only needed the little bit of sugar you see in the pictures. I eat a piece after shooting that didn't have any and I didn't needed at all. It's really super delicious!
Happy fall baking!
Recipe notes:
1. The base of this recipe it's just a typical sponge cake. That's why you don't mix eggs with softened butter but with sugar. Once the eggs and sugar have aerated, you need to do the following step very gently, like when you are incorporating the flour, in order to not deflate the mixture too much.
2. I add cardamom to the traditional spice mix for a something different. If you don't have cardamom you may use nutmeg as well, or use both if you prefer.
3. I have this specialty honeycomb cake pan but you may use a regular 9" cake pan. If using a Bundt pan you probably will need to bake for a little longer. Test your cake at 25 minutes and see from there.
4. The brown butter it's completely optional but it definitely adds some nutty notes to the cake. To make it, just melt the butter in a saucepan over low heat. Let it sizzle until foam start to form on top. When foam starts rising retire form heat for a few seconds, then return to burner. Let the butter cook for a few minutes more, retiring the butter from heat when it's cooking to rapidly to prevent burn. When the butter looks brown and your kitchen starts to smell like popcorn the brown butter is ready. Be careful not to burn the butter. The whole process should take about 5 minutes.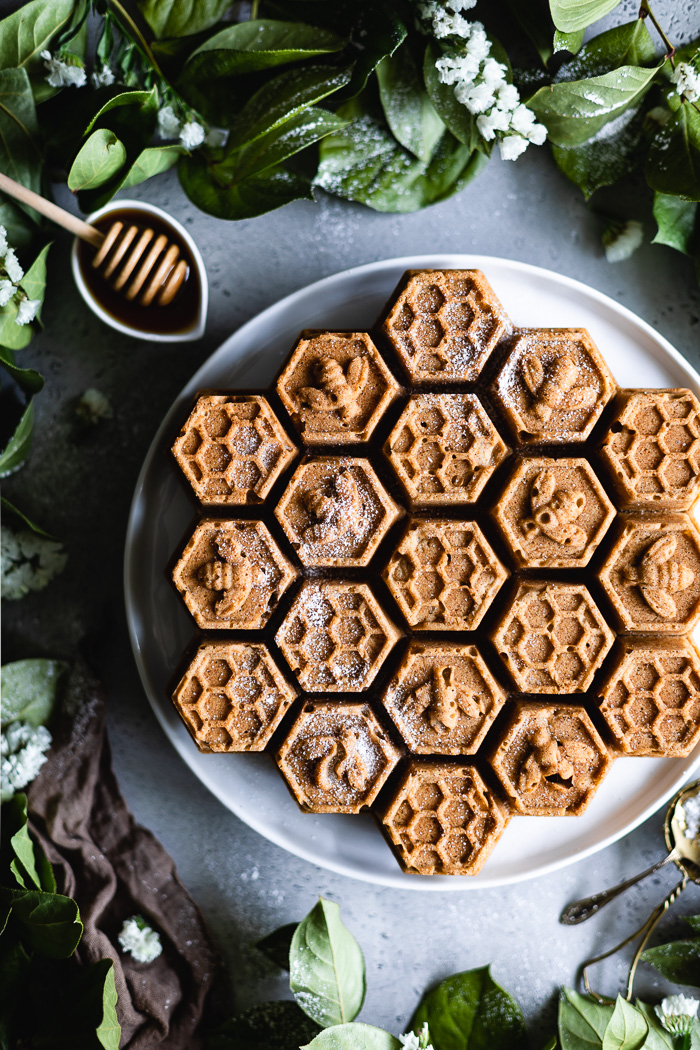 Spiced Sponge Cake with Brown Butter
Butter – 4 TBSP
Coconut oil (preferably, but you can use canola, grape seed or vegetable) – 2 TBSP
Eggs, at room temperature – 3
Raw sugar – 1 cup
Dark brown sugar – ½ cup
Unbleached all purpose flour – 2 ½ cups
Ground cinnamon – 2 Tsp
Ground ginger – 1 ½ Tsp
Ground all spice – ½ Tsp
Ground Cardamom (you may substitute with ground nutmeg or use both) – ¼ Tsp
Ground cloves (you can leave it out completely) – just a pinch
Baking Powder – 1 Tsp
Fine sea salt – ½ Tsp
Pure raw honey - 2 TBSP
Pure vanilla extract – 1 ½ Tsp
Coconut milk – 6 oz
Total time - 45 minutes Active time - 20 minutes Baking time - 25 minutes
Equipment - Standup Mixer or Electric Hand Mixer, 9" cake pan (see notes), silicon spatula
Preheat oven in 350°.
Spray the cake pan with baking spray.
In a small saucepan cook the butter until brown (see notes). Add the oil, strain it and set aside to cool down.
In the bowl of a standing mixer with the whisk attached or using an electric mixer with the whisk attached, beat the eggs with the sugars in high speed for 8 minutes (level #8 in the Kitchen Aid).
In the meantime, combine flour with all the spices, baking powder and salt. Mix with a hand whisk.
When the 8 minutes are up, add the vanilla and honey to the egg sugar mixture and let it whisk for and extra minute. Stop whisking and retire from mixer.
Add about ⅓ of the flour mixture to the eggs/sugar bowl. Using a silicone spatula, very gently incorporate the flour into it, using more of a folding stroke rather than a beating one. Add another ⅓ of the flour and repeat the process, finishing with the last ⅓ of flour.
Dump some the flour/egg mixture into the butter/oil saucepan. Mix and combine until it's incorporated, about 2 minutes. Transfer to the flour/egg mixture bowl and gently mix everything together, remembering to do it more in a folding motion rather than beating vigorously. When the batter seems smooth and incorporated, add the coconut milk and gently combine for the last time until the batter has absorbed the milk.
Pour batter into prepared pan (see notes) and spread through the top to even it out. Place in the oven and bake for 20 to 25 minutes, until you insert a toothpick in the center of the cake and it comes out clean. Retire from oven and let it cool a bit. Sprinkle powdered sugar on top to serve.