Sugar Cookies with Tahini Buttercream
I made these sugar cookies sandwiches with tahini buttercream frosting and dipped in melted chocolate out of pure comfort. Being in the middle of a hectic week, we could use a treat that we can just grab and go when we were craving a sweet bite. And these sugar cookies with tahini butter cream and chocolate were perfect for that!
If you catch my last post about the Chai Blondie Cheesecake Bars, you probably read about how I've been drowned to cookies and bars lately. I wanted to keep that cookie mood going with these cuties. So I just used my basic Sugar Cookie recipe and for the buttercream I used my tahini buttercream recipe from my Chocolate Sheet Cake with Nutella Swirl and Tahini Buttercream. And then dipped then in chocolate just because.
As I said, since it's a hectic week, I'll be just dropping a quick note here on how I put these together. I made a full recipe of the cookie dough but baked just half. The other half is already frozen and waiting to see its daylight, maybe with Nutella?? I dipped the cookies on the chocolate and waited until the chocolate was set and dry to frost them. I made half recipe of the tahini buttercream frosting and then spread it with a spatula on the cookies, I didn't wan to fill a bag to pipe them (again, hectic week) but you can totally do that if you have the tools.
Now, I have to run. Just let me grab three cookies!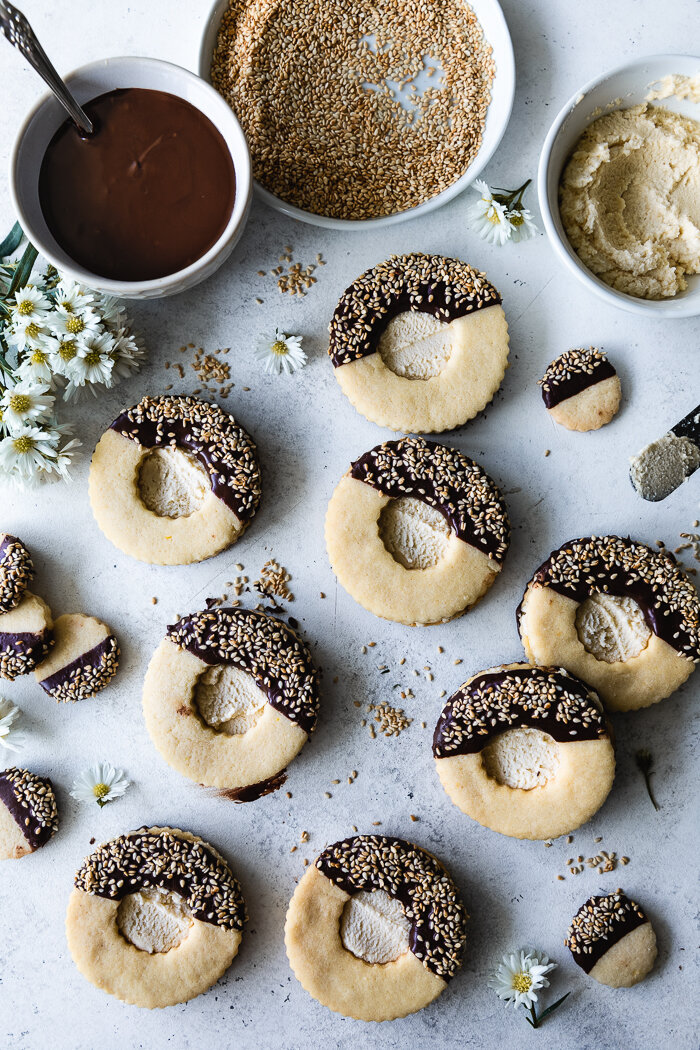 Sugar Cookies with Tahini Buttercream
Makes about 30 cookies and 15 sandwiches
Total time - 2 hours Active time - 30 minutes
Equipment - Stand mixer or handheld electric mixer, parchment paper, baking sheet, 3" and 1" cookie cutters
To make the cookies: Follow recipe for cookies. Remember to place dough in the fridge for a few minutes if it becomes too soft and breaks when you try to drag them form your surface.
Using a 3" cookie cutter cut a piece of dough and transfer to prepared baking sheet. Repeat this but this time cut a smaller circle on the center with a smaller cookie cutter. Repeat with this with all the dough, alternating between the complete circles and the rings so you make sure to have tops and bottoms equally at the end.
Place them in the freezer and continue with the process in the recipe.
To make the frosting: Follow recipe for tahini buttercream
To dip cookies in chocolate: In a double boiler or a medium glass bowl over a small saucepan with some simmering water melt chocolate chip, stirring them frequently and retiring form heat when there are still some chips visible. Keep stirring until all chocolate is melted.
Dip a complete side of one of the whole cookie and place it chocolate side up on a rack. Dip ⅓ of the rings on the chocolate and place it on the rack as well. Wait a few minutes before sprinkling some sesame seeds on top of the rings. Wait until the chocolate is complete set before spreading buttercream.
Spread buttercream on the whole cookies and press a ring cookie on top. Eat immediately!