Lemon Blondie Bars
Delicadas de Limón
If there's something that marks summer for me is the use of lemons in everything. All the fish, salads, pastas, potatoes, asparagus, broccolini…everything is finished with a drizzle of that tart and floral juice.
So it's really a surprise for me that it's not that often that lemons have been the main characters of my sweets. Even though I use them as an ingredient, I really haven't made them the star of any show.
If there's a confection I have loved since childhood are lemon bars. Here in Puerto Rico we call them delicadas de limón because they are petite and very delicate to handle. But for some reason I found them very intimidating. Probably because of all the curdy texture on them.
Nevertheless, I finally resolved to be brave, buckled up and put my hands on it, only to find out how easy and effortless they are. My hustle was stood up waiting for things to tackle. I had to quietly put it aside for other assignments later.
After various adventures I was sure about what I wanted now in my lemon bars. I decided I wanted a softer crust, so the one on this recipe is more of a blondie rather than a shortbread. It's still firm to hold the filling but soft and chewy enough to complement the custardy texture of the lemon filling. The lemon filling is based on Bird's Bakery lemon squares, a super easy and classic mix of eggs, sugar, lemon and flour. But I whisked the mixture like mad to make it bubbly so it would end up with a thin crisp film on top, such as the top on brownies.
Since everything was so smooth and easy I decided (of course!) that I needed to complicate things a bit, therefore instead of bars I decided to make rounds. The lemon bars, super easy; cutting them in circle shape, kind of a pain you know where! But I really wanted to make them summer pretty and to tell you the truth, after the first couple of pieces it was kind of easy. And with this shape they are perfect to bring to any summer party!
Recipe notes:
1. Have all the ingredients ready because everything is assembled pretty quickly.
2. I truly recommend using a combination of methods to grease the pan. I used parchment paper and then sprayed some baking spray to make sure nothing would stick.
3. I was craving a simple lemon bar but, since the crust is more of a blondie, you could add some chopped nuts to bring some texture and flavor.
4. I you are planning on cutting them round, you should then chill the pan for several hours or overnight to make it easy to cut. Take it out of the fridge and wait 15 to 20 minutes to make the filling softer.
5. You will need to wipe the cutter every time you use it. This way each lemon round will come clean.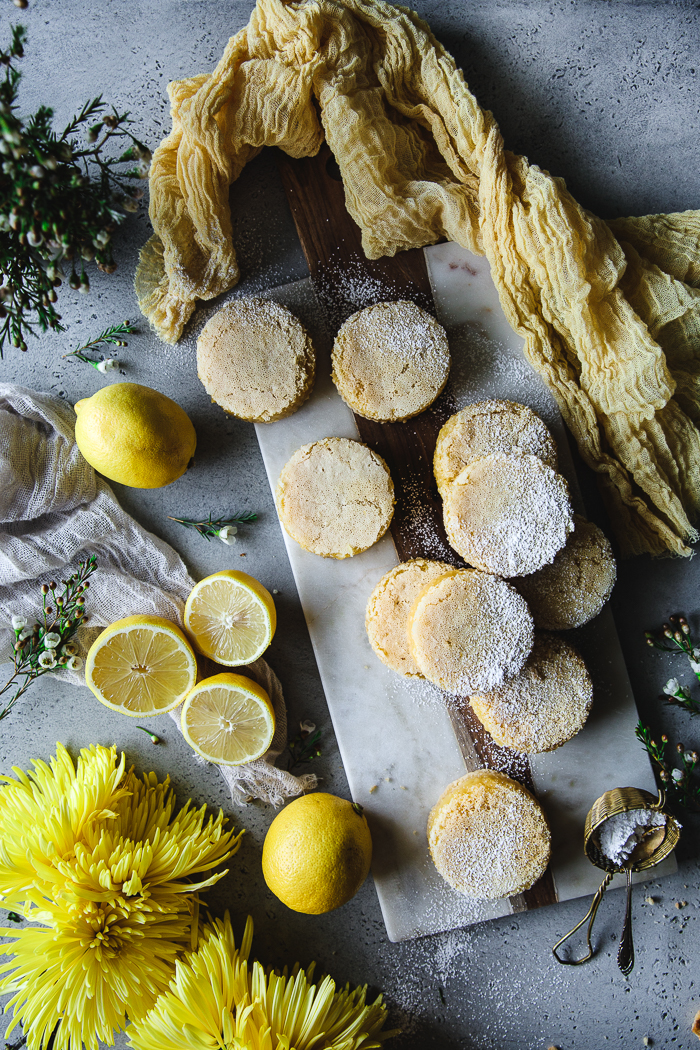 Blondie Crust
Unsalted butter at room temperature – ½ pound (2 sticks)
Dark brown sugar – ½ cup
Raw sugar – 2 TBSP
Vanilla extract – 2 Tsp
Fine sea salt – 1 Tsp
Large eggs - 2
Unbleached all purpose flour – 2 cups
Lemon Filling
Large eggs – 6
Raw sugar – 3 cups
Lemon zest – 1 to 2 TBSP
Freshly squeezed lemon juice – 1 cup
Unbleached all purpose flour – 1 cup
Powdered sugar to dust
Total time – 45 minutes Active time – 15 minutes Baking time – 30 minutes
Equipment – 9 x 13 baking pan, Stand up mixer or hand electric mixer
Preheat oven to 350°. Grease, spray or cover with parchment paper a 9 x 13 baking pan (see notes).
In the bowl of a stand up mixer with the paddle attachment cream on medium high speed the butter with the brown and raw sugar for 3 minutes, until creamier and fluffier. Slow down the mixer to slow and incorporate the vanilla and salt. Add the eggs, one at a time and scraping down the bowl after each addition. Let the eggs incorporate well. With the mixer still on low, add the flour slowly and mix until just incorporated to the batter. Transfer to the pan and with your hands spread the mixture through it, making sure the edges and corner are well covered.
In a medium bowl whisk the eggs and then add the sugar and whisk with the eggs. Add the lemon zest and lemon juice and whisk very well, until you have a homogeneous mixture. Mix in the flour and pour over the blondie crust dough.
Place the pan in the oven and bake for 30 minutes. Take out of the oven and let it cool completely. Dust with lots of powdered sugar and cut in squares. You may chill in the fridge for a few hours and then bring down to room temperature to make sure they are completely set.
To make the rounds you need to chill the pan for several hours so they don't break when you are cutting them. Take out of the fridge and let it loose the cold for about 15 minutes. Using a round biscuit cutter cut a piece a gently push from the bottom up until it has come out. Repeat until you have 12. Serve the rounds and save the edges for when no one is watching.