Super Easy Thai Red Curry
Currently in Repeat
(UPDATED: Made an update by topping the curry with fried plantains chips. Just slice the sweet plantains and fry them in very hot olive oil for 3 to 4 minutes and drain over paper towel.)
We've been lovers of Asian and Thai foods since a very long time ago. Love the sweet and spicy flavors, the nutty notes from the coconut and the contrasting textures thanks to all those fresh veggies. Also, any Thai duck dish.
But when we thought about Thai food it was always as something to do for any given special occasion or when we wanted to create our own feast. That was until we had Thai Red Curry for the first time. How we were missing out?? This simple stew gets done with just a few simple everyday ingredients and it's made in less than 30 minutes.
Now I can make this Thai Red Curry easily once a week. So full of nutrients because I like to load it up with lots of veggies. It's so warming and comforting. But let me tell you, my Thai Red Curry version is limey and gingery and spicy. It's a very colorful one! I make this every time we want something filling and warm but also super easy to make. I like to have my rice on the side and dump a spoonful of it on the glorious stew so it soaks all the warm and spicy flavors.
This version is with halibut, but I have made it with shrimp and chicken as well. I have to tell you the fish version is kind of my favorite. You can add extra mushrooms or use firm tofu for a vegan version.
I can't wait for you to make this in your kitchens. If there are kiddos around you can make a milder version by using less or no chili at all, but I promise you, any way you make it everyone will love it for sure. You'll have this recipe on repeat!
Recipe notes:
1. I like to use lots of veggies but you can use whatever you have on your fridge. This dish is a great vehicle for greens and other good for you things.
2. The traditional recipe calls for fish sauce, but I prefer to use oyster sauce because it's less pungent and also adds more of an umami flavor to the dish. Also, traditional versions use lime juice as a splash at the end of the cooking, but I like to add some lime juice during the cooking process to add a bit of a floral note to the dish.
3. Fixings are completely optional but very much recommended. They add a nice crunch that contrasts perfectly with the cooked veggies.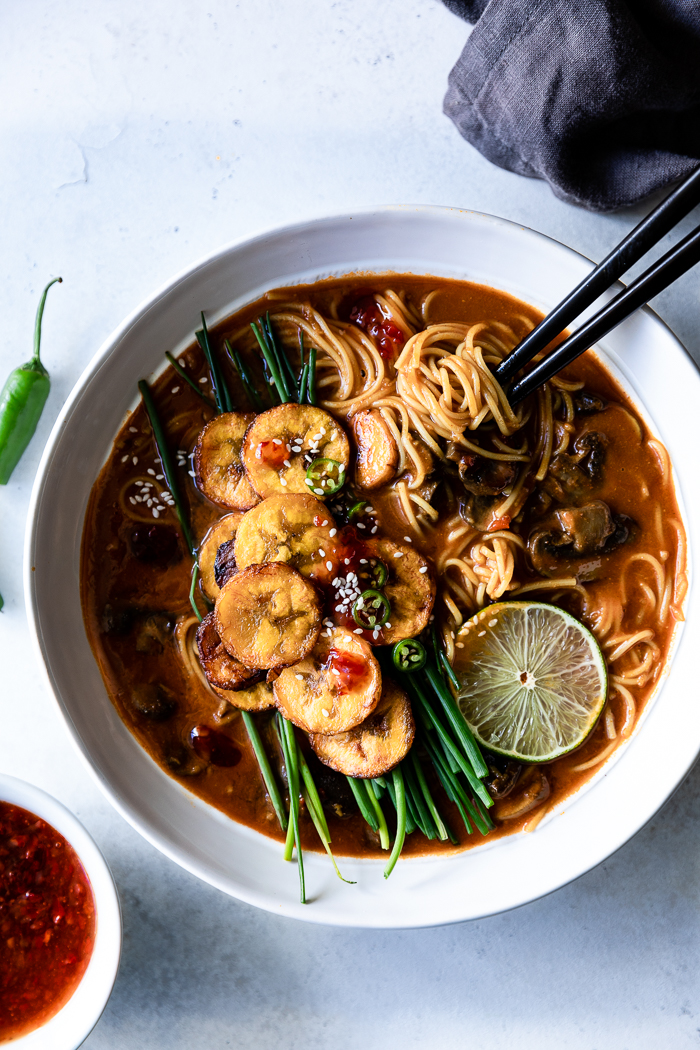 Super Easy Red Thai Curry
Halibut fillet (optional) – a 6 to 8 ounces fillet
Fine sea salt – ¾ Tsp, divided
Sesame oil – 1 TBSP
Yellow or white onions, sliced – 1 cup (about a whole medium onion)
Red bell peppers, finely sliced – ½ cup (about ½ pepper)
Shitake mushrooms, sliced or whole if they are small – ½ cup
Red curry paste – 4 TBSP
Fresh ginger, grated – 1 to 2 TBSP
Ground garlic – ¼ Tsp
Water – 2 ½ cup
Coconut milk – ½ cup
Freshly squeezed lime juice – juice of 1 lime
Oyster sauce – 2 Tsp
Hot chili sauce – 1 to 2 Tsp, depending on desired heat level
Raw sugar – ½ Tsp
Sweet Plantain Chips (optional) - ½ cup
Basil leaves, sesame seeds, lime wedges, chopped green onions, somen noodles or and Jasmine rice to serve
(Updated with the sweet plantains chips)
Cut the fish in approximately ¼" thick cubes. Sprinkle the pieces with ¼ teaspoon of the salt on both sides. Set aside.
In a wok or deep large skillet heat the oil over medium heat until nice and warm. Toss in onions, peppers and shitakes and sprinkle with ¼ teaspoon of the salt. Sauté for 3 to 4 minutes, moving frequently until veggies are tender and onions look translucent. Add the red curry paste, ginger and garlic and mix everything to cook the curry paste. Continue to move frequently, about 5 minutes. If the curry paste starts scorching at the bottom of the pan, add a bit of water or lime juice and continue moving everything. Add the water, coconut milk, lime juice, oyster sauce, chili sauce and sugar. Mix everything well and let it cook for 15 to 20 minutes.
During the last 4 to 5 minutes of cooking add the fish cubes and cook until they are firm and done. Remove from heat. (if using Asian noddles that cook fast such as somen or soma noddles, add them at this point to the curry and cook for 4 to 5 minutes as well.)
Serve warm with topped desired fixings as the basil leaves, sesame seeds, extra lime wedges and green onion with a side of steamed jasmine rice.